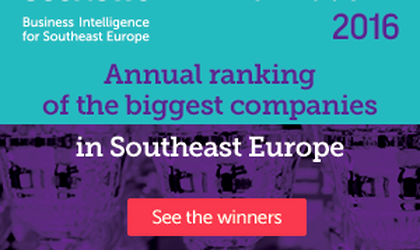 The  100  biggest companies from southeast Europe had an increase in their combined revenues to EUR 102.5 billion, up by some 2 percent as compared to the revenues of the entrants in last year'st top and slightly below the region's 2.5 percent average economic expansion, according to the 2016 ranking launched by SeeNews.
At the same time their aggregate earnings were just 1.3 percent higher than the combined profit of the region's biggest companies a year earlier, suggesting that corporate majors still have room to adjust to the complex geopolitical situation, volatile capital flows and unsettled financial and commodity markets.
Romania had 56 entrants in the ranking with combined revenue of EUR 55.2 billion, more than half of the EUR 102.5 billion made by all companies in the list.
Romanian car maker Dacia, a unit of France's Renault, is the biggest company in the region for a  second year running with total revenue of EUR 4.29 billion, followed by two Romanian subsidiaries of Austria's OMV.
It should be noted that the rise in the combined net profit of the region's biggest companies this year comes after an 11 percent drop in the earnings of the 2015 ranking entrants.
For the ninth consecutive year SeeNews, a provider of business intelligence for Southeast Europe  (SEE), is publishing its ranking of the  biggest  companies,  banks  and  insurers  in  the  region.
Apart  from  the flagship  ranking of the  largest  non-financial  companies by total revenue, the  SeeNews TOP 100 SEE  ranking  includes sub-rankings  of  the  most  profitable  companies,  the  most dynamic companies, the biggest loss-makers, the most successful industries and the companies with the biggest revenue  per  capita.  These  are  complemented  by  analyses  of the trends on some of the most vibrant economic sectors contributed  by  industry  experts,  and  interviews  with  the chart-toppers and market-movers.
Georgiana Bendre