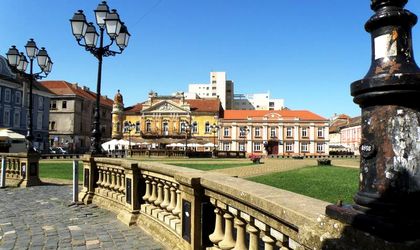 Timisoara city, located in western Romania, has won the title of European Capital of Culture 2021, following a decision of an international jury.
Four Romanian cities were short-listed for this position, including Bucharest, Baia Mare and Cluj-Napoca. Initially, there were 14 local candidate cities.
The president of the jury European Capital of Culture, Steve Green, said that this is a "title for life, not just for one year".
The committee that evaluated the cities comprised 12 independent experts, out of which two were assigned by the Ministry of Culture. The other jurors were appointed by EU bodies.
Timisoara will also receive a special prize worth EUR 1.5 million. The city's candidacy ran under title "Shine your light; light up your city!". The projected operating budget is EUR 48.5 million of which EUR 33.9 million would be allocated to programme expenditure. Timisoara hosts each year between 3,500 to 4,000 cultural events and close to 90 percent of the local culture budget goes to supporting public institutions, and the rest is allotted for NGOs.
Timisoara's campaign concept for this contest revolves around "program-stations/project" and paths alongside the Bega channel, linking ideas, people and places.
Tibor Navracsics, commissioner for Education, Culture, Youth & Sport, said he hopes that this title will bring cultural, economic and social benefits for Timisoara, replicating the successful development of other cities that were cultural capitals.
Timisoara will be the second Romanian city to hold this title, after Sibiu in 2007.
Polish Wrocław and Spanish Donostia-San Sebastián are the cultural capitals this year. Next year, it will be the turn of Danish Aarhus and Cyprus-based Paphos. Dutch Leeuwarden and Malta-based Valletta will hold this title in 2018. The Italian city of Matera and Bulgarian Plovdiv will be the cultural capitals in 2019, while Croatian Rijeka and Irish Galway were recommended for this position in 2020.
Timisoara hosts 24 libraries, 19 cinemas, 11 conference halls, 14 galleries of contemporary art, six theatres, four museums, a Philharmonics and an Opera House, four cultural spaces, 47 patrimony sites, 24 schools, and centers of the cultural and creative industry, 340 squares and indoor courts, 18 public and commercial buildings and two transit centers for refugees. The city has around 320,000 inhabitants.
In 2021, there will be three European Capitals of Culture: One from Greece, Romania-based Timisoara and another city from Serbia or Montenegro, which are candidates for EU accession.
Ovidiu Posirca