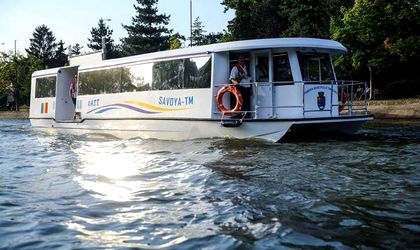 Starting today, Timisoara has become the first Romanian city to introduce public transport on its river with seven designated boats purchased by the municipality to carry passengers on the Bega River, which crosses through the central part of the city. A single ticket costs RON 1.
With the introduction of river public transport, Timisoara's intermodal transport system now has a total of five subsystems – the others are buses/minibuses, electric buses, trams and bikes.
"Everything was conceived as an intermodal concept, meaning connections can be made using a variety of transport means. Of course, this type of connection is not yet universal, but we're aiming to be able to provide such connections all over the city as soon as possible. We want to encourage public transport and we're taking advantage of the fact that Timisoara has a river like the Bega. The boats are very comfortable, they have 50 seats each – we have seven boats in total, but we'll start off with three because it's an experiment. First of all, I want to see the demand, and we will keep a very close eye on the way the boats are used – where people get on and where they get off most often. We will continue to adapt according to demand. It's obviously not the best time of the year, because winter is coming soon and Bega transport will be suspended, but it will be reintroduced in the spring and we will be careful about adjusting the service so that it works as well as possible," said Timisoara mayor, Nicolae Robu, at the inauguration of the new service.
According to the mayor, a boat uses four liters of diesel worth around RON 20 for each full 7.2 km trip, which takes around 50-55. "I think it's very cost-efficient. It will take time for people to get used to the boats. There won't be any congestion, you won't see conflicts in traffic here. Transport will be smooth, at rather low speeds and almost in a straight line. This means you'll reach your destination very quickly," he said.
Timisoara Public Transport Company Director Nicu Bitea said that there are currently just 26 people employed to operate the boats, out of the 76 employees needed for all the seven boats to be operational. He also added that recruitment is in progress and will continue over the following weeks, but that in the beginning three boats will definitely be available every day.
The seven boats cost the Timisoara City Hall around EUR 2 million as part of the EUR 6 million project to rehabilitate the Bega River banks. Bega public transport was reinstated after a break of 51 years.
The public boats will run only between Mondays and Fridays, as the weekend is reserved for leisure trips. Tickets can be purchased on the boat.