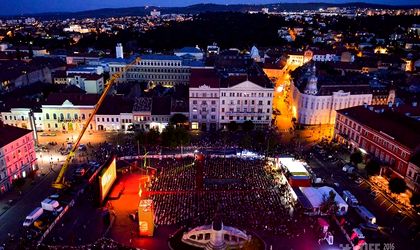 The anniversary edition of the Transilvania International Film Festival (TIFF) ended on June 5, reaching a new historical record from its 15 years of activity with 248 movies, from 64 countries, that brought over 79,000 ticket payers, which is 9 percent more than last year.
Thus, it represents the second year with an important growth of sold tickets at TIFF, 25 percent of them being acquired online.
The total number of participants exceeded 120, 000. Aside from the ticket payers there were the people that attended the free projections outside, masterclasses, workshops, launches, exhibitions and meetings from TIFF Lounge.
Around 1, 100 guests, including movie directors, actors, professionals from the industry and Romanian and foreign journalists gathered at the projections and the special events from the 20 locations.
A traffic record also was registered on www.tiff.ro, which was permanently updated before and during the festival. During the 10 days of TIFF  55, 280 of unique visitors were registered and 106, 946 visits and 745,138 page views up 15 percent compared to 2015. The official blog blog.tiff.ro registered 27, ooo views during the festival.
TIFF 2016 mobile application developed by Greppy Systems, was accessed 190,000 times, which represents four times more than the last edition. The new buying options of tickets through the application was used 7,300 times.
Millions of users followed the posts and videos from the Facebook page TransilvaniaIFF. All the videos posted during this edition reached a total of 1,014,746 views. The five spots of the image campaign registered 614, 639 views and an organic reach of 2, 064, 000, the most popular being Taxi Driver aka Taxidermistul, followed by 193, 481 times.This year the Facebook fans liked 210,000 of the posts during the festival, representing a growth of 50 percent compared to the last year. Moreover, around 350 volunteers from 33 departments provided operations support at TIFF locations.
 
Georgiana Bendre