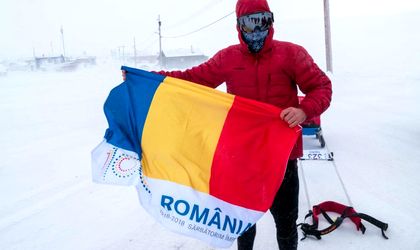 The winner of the marathon Arctic Ultra 6633, Tiberiu Useriu, arrived Wednesday night on the International Airport "Avram Iancu" in Cluj, where he was acclaimed by over 100 persons, saying that he is considering taking a break from the competition. 
Useriu said at his arrival in Romania that he was surprised by the warm weather from the North Pole, with temperatures of -15 degrees compared with the last years when were registered -32 degrees.
"I do what I like, what I know it's best. It was the hardest track for me because I was sure that I knew everything, but I encountered many surprises. It was a half new track, there were 280 km on ice, which made the contest pretty hard. I encountered two storms pretty aggressive and a final one. What was surprising was the weather, which was pretty warm compared with the last year, minus 11- minus 15 degrees, compared with minus 32 degrees, which was abnormal for the respective area. I hated the Ice Road, it was not easy. There were moments when a toe from my left foot was freezing, I had injuries at my feet. I knew what was ahead of me and I managed the situation until the end of the competition," said Useriu.
He said that he is feeling tired because he didn't have time for recovery and made a treatment with antibiotics for some infections.
Useriu added that he wants to take time to rest .
"Afterwards I will go for 30 days in Himalaya, what will follow I don't know. For me it will also be a surprise. I think I will take a break from the competition, but I'm not sure, because you never know. I think I'll do also something else, I had this experience three times, I already know how it's like there, there will be nothing new the next year, maybe the temperatures will be higher and at some point it will be a normal contest. If the temperatures are positive, the contest doesn't have any attraction," said Useriu.
He concluded that he had moments during the competition when he wanted to give up, but he kept reminding why he is there for and succeeded to move on and win the competition.
"My psyche is my asset. I formed it during time, my past shaped the psyche that I have and I think this is my asset," concluded Useriu.