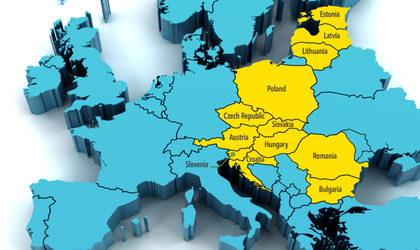 The Romanian capital will host the Three Seas Initiative Summit starting today – a project that brings together 12 countries to discuss the acceleration of development in the area bordered by the Baltic, Black and Adriatic Seas.
President Klaus Iohannis will host the Summit, and guests will include European Commission President Jean-Claude Juncker, nine heads of state as well as US Energy Secretary Rick Perry. The 12 countries at the centre of the Initiative are Austria, Bulgaria, Croatia, The Czech Republic, Estonia, Hungary, Lithuania, Latvia, Poland, Romania, Slovakia and Slovenia.
Launched by Croatia and Poland in 2015, the Three Seas Initiative is aimed at providing political support for enhanced economic cooperation in fields such as energy, transports, telecommunications and environmental protection for states along a north-south axis from the Baltic Sea to the Adriatic Sea and the Black Sea. At the same time, the Initiative serves as a platform for top-level dialogue between EU and NATO member states.
This year's summit will be the third in the Three Seas Initiative and its agenda will include a business forum for the first time.
The business summit will be attended by companies and governmental officials from countries within the Initiative as well as from other EU member states, the US, the West Balkans regions, the Republic of Moldova, Ukraine and Georgia, EC and financial institutions representatives, as well as think-tank and academia members.
The summit is also set to ratify a series of top-priority cooperation projects in the fields of transports, energy and IT, meant to boost the economic development of states in the region, to set up a network of chambers of commerce and to encourage the creation of an investment fund for the Initiative.