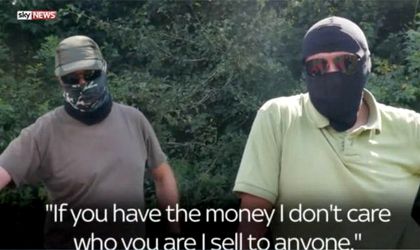 The three Romanians involved in the Sky News scandal were placed under preventive arrest for a further 30 days by the High Court of Justice and Cassation (ICCJ). The three men appeared in a Sky News feature on weapons smuggling in Romania, which, DIICOT argues, was staged.
Initially, on September 2, the Bucharest Court of Appeal decided to remove them from preventive arrest and place the three under judicial control. However, the ICCJ ruled against the decision after prosecutors with the Directorate for Investigating Organized Crime and Terrorism (DIICOT) challenged the decision.
Aurelian Mihai Szanto, Attila Csaba Pantics and Levente Pantics were placed under preventive arrest on August 12, under allegations of setting up an organized crime ring, violation of the arms and ammunitions regulations and communication of false information.
DIICOT prosecutors argue that British journalists offered Aurelian Szanto the amount of EUR 2,000 for the "journalistic investigation." He kept half of the amount and paid the other half to Attila Pantics and Levente Pantics.
According to DIICOT prosecutors, journalists also asked that the video be shot in a forested and isolated area. They also requested a car without vehicle registration plates and that the weapons be covered with a blanket. The journalists wanted Pantics Attila-Csaba to provide them with AK military grade weapons. Consequently, Pantics Attila – Csaba asked a third person to lend him a UM Sadu rifle cal. 7,62×39, a "collection" weapon he lawfully owned. Although the weapon was legally owned, DIICOT prosecutors argue, according to Romanian legislation, he was not allowed to leave his or to lend it to a third party.
DIICOT announced on August 17 that the body will request, via a rogatory commission, that the Sky News journalists who filmed in Romania a feature report on arms trafficking be heard in connection with communicating false information.
Georgeta Gheorghe