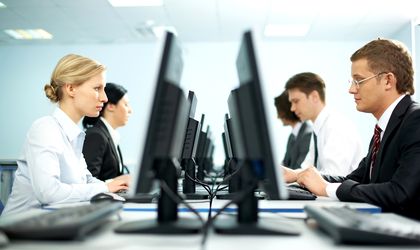 According to data released by Eurostat, only 76 percent of recent Romanian graduates were employed last year. This is a significant growth from 2016, when only 69 percent of them were employed, but still under the EU average of 80.2 percent.
In the past 10 years, the percentage of graduates who had a job after graduation had significant developments. The peak was in 2008, when 84.8 percent of graduates were employed, even more than the EU average that was then 82.1 percent.
The economic crisis in 2009 and 2010 had a major impact and the percentage reached 77.6 percent, compared to an EU average of 78.3 percent in 2009, and 71.2 percent compared to an EU average of 77.4 percent in 2010.
While the EU average remained stable in the following year, Romania's share of employed graduates continued to decline, to a minimum of 66.2 percent in 2014. Meanwhile, it has started to grow, to 76 percent in 2017.
In 2016, Romania had the 7th lowest share of employed graduates in the EU. Countries that had an even lower level were Greece (52 percent), Croatia (65.9 percent), Cyprus (71.5 percent), Spain (71.9 percent) and France (74.4 percent).
At the other end of the spectrum, 95 percent of graduates in Malta were employed, 90.9 percent in Germany and 90.4 percent in the Netherlands.
Recent graduates are people aged between 20 and 34, who are not enrolled in education or training and who graduated in the past three years. The employment rates for recent EU graduates with tertiary education was 85% in 2017, while the corresponding rate for vocational graduates (at upper secondary or post-secondary non-tertiary level) was 77%. The employment rate for generalist graduates (at the same non-tertiary level) was considerably lower, at 64%.