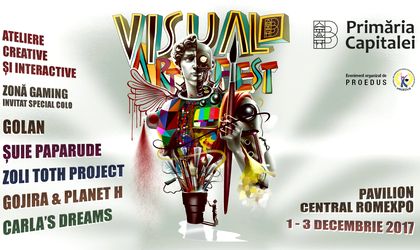 During Friday until Sunday takes place the Visual Art Fest at Romexpo. It is a festival for visual arts that aims to bring into Bucharest citizens' attention several types of art and modern technology in the field: from live music shows, to visual art installations and creation workshops.
The workshops were made to express the creative talent of participants with the help of the modern visual innovations: Workshops of Digital Art (Virtual Reality), Interactive Surfaces,
Video Mapping, Gaming, Decorating Art (wood and glass), 3D design, 3D printing, foto booth.
Within the festival will also take place live music shows where artists Carla's Dreams, Suie Paparude, Golan, Gojira, Planet H and Zoli Toth Project will use at maximum modern visual effects.