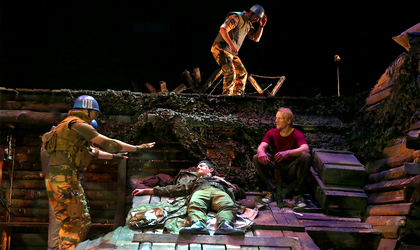 The show No Man's Land, one of the plays of the National theater Festival "I.L. Caragiale" Bucharest, set up in the previous season will be played this Thursday at 8 PM within National Theater Festival, the XXVIIth edition. It is a satire, a black comedy against wars worldwide and against the international community and press in search for exclusivity and rating.
The play, directed by Alexander Morfov,  is a remake after the Oscar-awarded film No Man's Land by Danis Tanović, (Oscar for the best foreign film, 2001). Overall the film got 42 awards.
Richard Bovnoczki was nominated at the UNITER award for its role in No Man's Land.