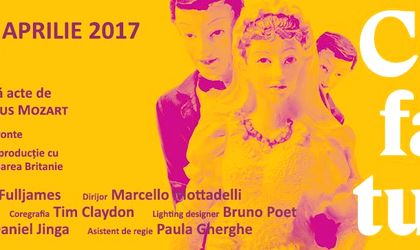 The weekend begins with the play Cosi fan tutte, a low comedy in two acts, by Wolfgang Amadeus Mozart. The play is organized in co-production with the Garsington Opera from UK, at the Bucharest National Opera.
You can watch it on April 28 from 6:30 PM. The libretto is made by Lorenzo da Ponte and the director of the play is John Fulljames, while the conductor will be  Marcello Mottadelli. In short, it's a love comedy about two soldiers, Guglielmo and Ferrando, who defend the fidelity of two sisters they want to marry.
However, their friend Don Alfonso challenges them by telling that a woman cannot be faithful and bets that he can prove them.
More information here.