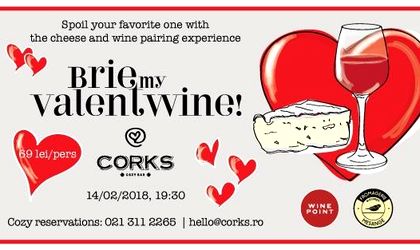 Corks Cozy Bar gladly invites you to join the "BRIE MY VANTEWINE" delicious party on Wednesday  February 14th!
Starting 7:30 PM, you will taste and pair the special artisan cheeses from Mesange Fromagerie with the delightful wines of Wine Point!
Come and enjoy discovering the poetical style of which artisan cheese pairs best with which wine!
You'll get to enjoy cheesy samples of Brie, Comté, Morbier, Mimolette Extra-Vieille and Pajarete De Cabra paired with Scaia (Garganega & Chardonnay | Italy), Javier Sanz (Verdejo | Spain), Salomon-Undhof (Gruner Veltliner | Austria), Scaia Rose (Trebbiano & Garganega | Italy), Scaia Paradiso (Corvina, Corvinone, Rondinella & Cabernet Sauvignon | Italy).
Alexandru Pitigoi, the founder and owner of Mesange Fromagerie is the guest presenter for the evening, while Bernard Spiridon, Wine Point representative, is the amphitrywine of the cozy night.
Sign up to this delicious event and learn about 5 special cheeses, 5 great-value wines and how to best pair them while delighting yourself with some sparkling conversations with your new wine-lovers friends!
The Price is 69 Lei per person. To book your place at Corks Cozy Bar "BRIE MY VANTEWINE" party please call: +4021 311 22 65 or email: hello@corks.ro !