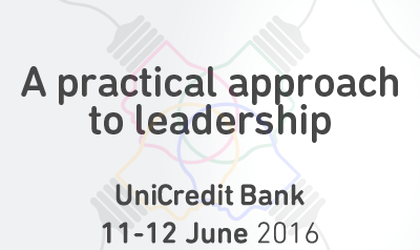 The fifth Think Leadership Event will take place between June 11-12 at UniCredit Bank Office. The event aims to facilitate the interaction between professionals who believe in lifelong learning and top companies that are distinguished by the actions they take, both internally and externally.
It will have as main theme the concept of "Gamification" which will use the elements and rules of gaming in business contexts. Gamification concept is becoming more widespread among companies because it helps motivate employees and increase their productivity.
Think Leadership targets professionals with 4-7 years experience in sales, marketing, finance, logistics and IT. The event will bring together over than 120 professionals at the headquarters of UniCredit Bank, 1F Exhibition, and those who are interested, can sign up for free on 7th of June on www.hipo.ro/thinkleadership. Following registration step there will be a screening stage through which our recruitment consultants will assess candidates' background, their professional background, experience, and motivation and interest in the event.
Think Leadership it will takes place over two days, on June 11 to 12, and the agenda is structured around two main objectives:
The first day of the event will focus on providing information and resources that would be useful participants in daily activities and in the development/ improvement of skills or essential competences, such as time management, prioritization tasks and risk management.
As part of the second day, we want to convey life stories of successful people, creating the perfect setting for a desire for lifelong learning and development of the participants and give them the courage to pursue his dream and to surpass .
5 reasons why professionals should participate at Think Leadership event
They will meet and interact with people with considerable experience of leadership, willing to share their experiences ;
They discover what resources they can access in some of the largest organizations in Romania to maximize knowledge and potential;
Will participate in workshops supported by partner companies;
4.They will practice some of the most relevant external resource development through development sessions;
There will identify the most important criteria in choosing an MBA program and the benefits offered in their professional development.
This year's edition of Think Leadership event will be attended by representatives of Maastricht School of Management, who will come up with a topic of interest for participants, that will incorporate our main theme respective the management in the relation with the gamification and how we can take these two concepts at maximum level by correlation.
Also in this edition there will be a session of Internal Talent Management Systems, which aims to create an interactive space where participants can find out which are those business models and systems used in leading companies through which employees can access resources their professional development.
Among the partner companies of this year's edition of Think Leadership, we mention L' Oréal Romania and UniCredit Bank, companies that are recognized as innovators in the business in terms of internal systems for motivating employees. Sessions presented will address both aspects of the Human Resources and Management and Leadership team from the perspective of leaders who will highlight those resources and innovations that can be a source of inspiration for the 120 participants. Companies wishing to attend the event can contact us at angajatori@catalyst.ro.
More information about the event and how to register, you can be obtained informantion by visiting the website www.hipo.ro/thinkleadership.