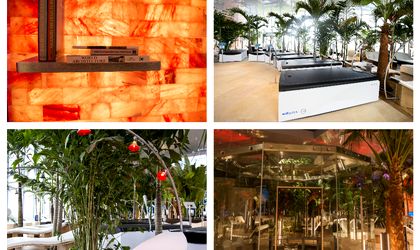 Within less than an year after its official opening, the leisure and wellness center Therme Bucharest has expended by 4,000 sqm the Galaxy area, following an investment of EUR 10 million. Thus, the total capacity of the Galaxy area will double, accommodating 2,000 person at the same time. The official opening will take place on December 1.
The expansion was decided earlier than it was initially planned due to the success registered since the opening.
"Romanians  were very  open to towards the new relaxing, wellness and fun for Therme Bucharest. The expansion is a natural step due to our visitors in the Galaxy area. The parents will relax, while the children will have fun. Parents can choose the saunas and relaxing areas and children can have fun in the playstation and an interactive splashtag area that reacts at the children's touch . Over a half of the share of our visitors (around 55 percent) is represented by families," said Stelian Iacob, general manager Therme Bucharest.
The new space has as main attraction the Himalayan salt construction with chromo-therapy and salt&light therapy with two areas, one with games for all ages and an area for reading. The games area comprises 14 Playstation consoles, interactive games in the water, illuminted benches and a projection screen of 5×3.5 meters. The lecture area has around 150 meters, as well as e-books. Within the construction were used 40 salt tones.
There will also be three moist saunas with themes and different therapies (Tropical Rain, Oriental Garden, Herbal Essences) and 20 beds with  infra red rays and 10 beds with hydro-massage.
Once with the opening, the green area of the center will grow by 10 percent.
Therme Bucharest is the biggest greenfield therme from Europe. It is owned by Wund Group, which has other c
 Georgiana Bendre