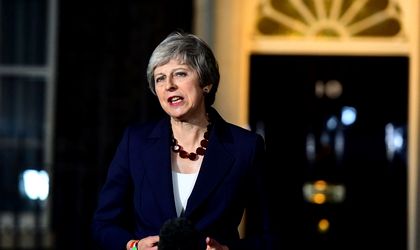 The UK cabinet has backed the draft withdrawal agreement with the EU for Brexit, Theresa May announced after a five-hour cabinet meeting she described as a "long, detailed and impassioned debate."
May says the draft is a "decisive step" in Brexit progress, while EU chief negotiator Michael Barnier said it was in both sides' interests.
"This deal, which delivers on the vote of the referendum, which brings back control of our money, laws and borders, ends free movement, protects jobs, security and our Union; or leave with no deal, or no Brexit at all," the PM said in her brief press statement after the cabinet meeting.
However, the leading Brexiteers outside Theresa May's cabinet have expressed their strong opposition to the deal, which could mean that the PM could face a rejection of the deal by the Parliament.
Although May was successful in getting her cabinet to back the deal last night, BBC political editor Laura Kuenssberg reported that nine of her ministers spoke out against it.
Contents of the agreement
The draft includes commitments to protect the rights of EU nationals in the UK and UK nationals in the EU, plans for the 21-month transition period and a "divorce bill" to be paid by the UK, between GBP 35-39 billion.
It also contains details of the "backstop plan," the most controversial part of Brexit negotiations so far. The backstop aims to guarantee that physical checks will not be reintroduced at the border with the Irish Republic, in the event this is not settled by a UK-EU trade deal. Both sides have committed to ensuring the backstop won't be necessary by coming up with alternative arrangements.
What's next?
There have been many voices speaking out against the draft agreement, including Labour Party leader Jeremy Corbyn, who said it didn't "meet the needs of all parts of Britain," as well as several Conservative MPs, which could cause issues for Theresa May, who now has to get the deal approved by Parliament.
Northern Ireland's Democratic Unionist Party – which gives the government the support it needs to hold on to a majority – has joined opposition parties in criticising it.
On Thursday, May will face MPs' questions. Later this month, the UK and the EU are expected to organize a special summit to agree on the plan. After the summit, the UK Parliament will be asked to approve the plans. If there's a No vote, the government has 21 days to put forward a new plan.
There are several options for what would happen if the UK parliament would not approve the final Brexit agreement: the UK could leave the EU without a deal, try to re-negotiate (which would probably extend the planned deadlines and transition period), the May government could fall or a new referendum may be held so that the people can express themselves on the deal itself.