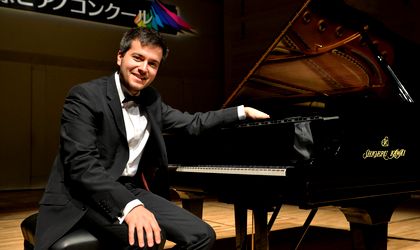 The Orchestra Room Radio will present on Wednesday, June 15, starting with 19:00, its last concert from the season 2015-2016, which is  a special event where the young pianist Florian Mitrea will play.
Mitrea is graduate of the Royal Academy of Music from London and is the recent double recipient of International Piano Contest Hamamatsu from Japan and in 2015 he was prized at the contests Santa Cecilia from Portugal and Citta di Imola from Italy.
He had concerts and recitals in rooms such as Bavarian Radiofusion Studios from München, Rokoko-Saal din Bayreuth, Stadtcasino from Basel, Bunka Kaikan from Tokyo, Arts Center from Seul, St Martin-in-the-Fields, Steinway Hall from London, St. John Smith Square, King's Place and Colston Hall.
Mitrea was remarked by the pianist and professor Boris Berman, who invited him to participate to the preselections for the International Festival of Yale University from Connecticut. The next summer, he won a scholarship to attend the festival where he played weekly during almost two months.
He was supported by family Radio Foundation and Martin Scholarship Fund and in 2010/2011 he got the George Enescu scholarship offered by Romanian cultural institute from London. He is also decorated with Silver Medal from musicians order from UK.
The concert from Radio Room will be dedicated exclusively to Australian classical music through its two representative figures: Mozart and Haydn.
The event will be leaded by Gabriel Bebeselea, the main orchestra leader of Philharmonic from Sibiu, of Romanian National Opera Cluj-Napoca and the state Philharmonic "Transilvania" from Cluj-Napoca.
The concert can be listened live on all the radio frequences from Radio Romania Cultural and Radio Romania Musical from the country and on the live internet streamings www.radioromaniacultural.ro and www.romania-muzical.ro.
Georgiana Bendre