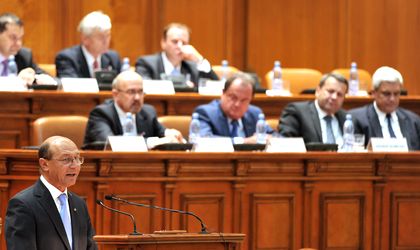 "The economy is slowly recovering from recession", President Traian Basescu said on Tuesday in a speech held in the Romanian Parliament. He explained that the worst of the economic recession is over and if the government steps up structural reforms, Romania could register a 2 percent growth in 2011.
Basescu added that Romania will sign a new agreement with the IMF next year as structural deficits make it currently very hard for Romania to sign any long term loan with other financial institutions. "In 2011 we need to loan about EUR 5.7 billion to cover the budgetary deficit alone", said the President.
But if the worst of the economic recession is over, the peak of the social crisis is yet to come in Basescu's opinion. "Now more than ever there is a need for social solidarity", he said expressing his support for the government's austerity measures.
Simona Bazavan