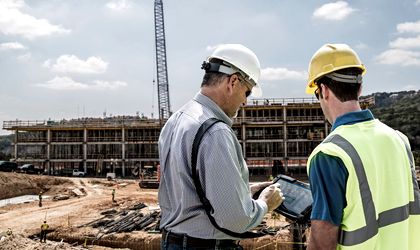 The first two months of the year saw a big increase in the volume of non-residential construction works compared to the same period of 2017, according to National Institute of Statistics, and the highest increase was in engineering works, with 34.3 percent in unadjusted series data and with 29.5 percent in adjusted series (according to the number of working days and to seasonality).
The growth would mean that public investments might start again in bigger numbers due to the fact that engineering constructions usually means roads and bridges works. But reported on structure elements for the entire sector, we see that the highest grow is in "maintenance and current repairs" with 11.9 percent in unadjusted series, followed by "capital repairs" with 8.6 percent. "New constructions" grew only by 7.3 percent in the first two months and that shows that most of the investments went to repairs and maintenance, not to new projects.
Non-residential buildings grew by 17 percent in unadjusted series and by 15.4 percent in adjusted series but residential buildings went down by 26.6 percent in unadjusted series and by 24.8 percent in adjusted data. It is possible to see a comeback for the residential in the second trimester, when the weather was favorable for constructions.
On total construction the growth was 8.4 percent in the first two months in unadjusted series and 6.5 percent in adjusted data. Compared to January 2018, the volume of construction works went up by 30.9 percent in unadjusted series, composed by an increase in capital repair works by 40.4 percent, in maintenance and current repair works by 37.5 percent and in new construction by 28 percent. By construction objects, engineering works grew by 43 percent, the non-residential buildings by 30.5 percent and the residential buildings by 11.1 percent.