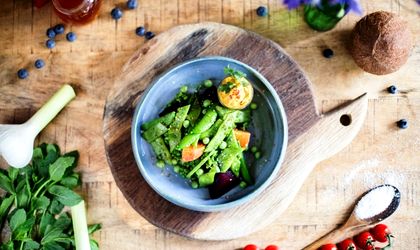 According to foodpanda.ro, the largest food ordering platform in Romania, in the past year, the number of online orders with vegetarian preparations has increased considerably by about 800 percent.
In the top of vegetarian dishes ordered online by vegetarian restaurant platform customers include: lentil cream soup, salad with five ingredients with halloumi, followed by vegetarian burger, vegetarian lasagna and Alaska mushroom salad. Also the average value of an order containing only vegetarian dishes is RON 47.
"Romanians' preference for vegetarian food has increased significantly in the last year. During this period, the orders for exclusively vegetarian dishes have increased nine times, which shows that the Romanians have started to pay more attention to the food style. In addition, the offer is more and more diversified, so many dishes that once cooked with meat ingredients today have a vegetarian version, such as vegetarian burger or vegetarian lasagna, "says Radu Balaceanu, country manager of Foodpanda Romania.
Foodpanda data shows that the cities where the most vegetarian orders are registered are: Bucharest, Cluj and Timisoara. Currently, foodpanda customers have 27 vegetarian restaurants listed on the platform across the country. 
foodpanda.ro is the largest online food ordering platform in Romania, currently collaborating with over 500 restaurants in Bucharest, Cluj-Napoca, Timisoara, Iasi, Brasov, Constanta, Arad, Ploiesti, Oradea, Galati, Craiova , Sibiu and Buzau.
Today is the International Vegetarian Day which has begun to be celebrated since 1977 as an initiative of the North American Vegetarian Society, a nonprofit organization. At the same time, this day marks the beginning of the month of awareness of vegetarianism, ending on November 1.