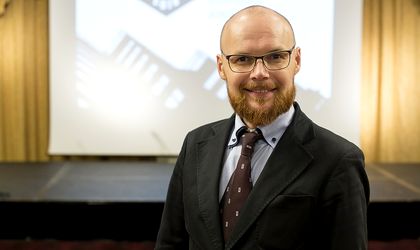 For Matius Ichim, co-founder of Matius Studio, the first retail architecture studio in Romania, and managing partner at the Retail Academy, the entrepreneurial path started in 2000 when he was a student. Today his studio has a team of 18 specialists who have worked for about 15 percent of the stores in each mall opened in Romania so far. He tells Business Review about the development of the local retail sector and what's next for the industry.
By Anda Sebesi
How and when did you make your entrance on the business scene?
In 2000, when Iulius Mall was under construction and I was a fourth-year student at the Faculty of Construction and Architecture in Iasi, I had the opportunity to access one of the most competitive, dynamic and avant-garde niches in architecture: retail. It was the first time that I had interacted with modern retail. My first notable project was Otiola, a fashion street store in Iasi developed as a family business.
How would you describe the business environment back then?
First, there was no credit for start-ups and nobody knew what a business plan was. Everything was intuitive. Demand exceeded supply, and products that were not sold in the current year were "suitable" for the next two or three years. The market was comprised of shapeless buyers who had no consumer profile and the idea of luxury products was practically nonexistent.
The majority of foreign investors were Balkan, which was quite familiar for both the Romanian state and their local partners and employees. Individuals who had recently left their jobs in the public system and fresh graduates were among the first investors I interacted with back then.
How would you describe the retail sector in the early 2000s?
While private retail was in its infancy, state-owned retail lurched from one month to another, because of a lack of suppliers, vision and capacity to adapt to what we now call consumer society. Kiosks dominated the retail scene, international retail chains were lacking and imports were done by bus. Family members were the sole source for investments at that time and there were no market research, ATMs or online payments.
The retailer was entrepreneur and salesclerk. He or she felt the market, anticipated the next season, and fixed the prices depending on demand and competitors' prices. There was no medium- or long-term vision and entrepreneurs active in retail invested their profits either in huge houses or second-hand cars. The mannequins were reshaped mummies and the signs were made of manually cut out letters soldered together and pasted. Against this backdrop, the second mall in Bucharest, Plaza Mall, was about to be opened.
How has technology influenced the concept of stores?
The IT sector has constantly changed our lives and generated the emergence of the first virtual stores which expanded and started to revolutionize the buying experience. A project in Russia in which the company was involved in 2016 is a successful example of how a real commercial space "pixelates" its frontiers, migrating to virtual and augmented reality. As a trend, the storefront is digitalizing and becoming intelligent and predictable, anticipating consumers' expectations based on their online profile.
For sure the IT industry will greatly reshape the retail sector in terms of both logistics – facilitating the process for the retailer – and the purchasing experience. It will plunge the consumer into diverse universes with the support of tools like virtual glasses and augmented reality environments.
Who have your clients been so far?
I started by working for local retailers in Iasi like Piticot, Otiola, Herren and Raviolu, and then I extended my activity to the bordering counties. Soon after we moved our office to Bucharest, in 2004, we started to extend our team, integrating engineers specialized in different fields of activity. Back then we worked for large national and international retail chains, making adaptations to localize projects designed by foreign specialists, translating some solutions from brand books and designing retail concepts.
Deluka, Jolidon, Noriel, JPB Tabac Shop, FarmaVet, D's Damat, Autograf, Lancel, FreyWille, Columbia, RobertoBravo, Only for You, Levi's, Lacoste and Pegas are among our clients so far.
What major opportunities does the online environment offer the retail sector now?
The retail space has jumped over many stages, but the IT sector could significantly diminish the differences between domestic and external competitors. The online environment facilitates comparison between prices and customers don't hesitate to buy or decide to buy online right from the physical store of the competition.
For example, now a product in storage can be accessed and tested virtually, analyzed in 3D or validated by friends from a virtual network and then bought from an office building or taxi. There are just digits between producers, customers and retailer, without any costs.
How do you think stores will look in the next 10-15 years?
I think that in the next 10-15 years we will no longer talk about malls as they are today, because they will be converted into multifunctional spaces. The retail space will be where the customer wants to be: in the park, on the bus or at the university. We will no longer go to the mall; it will come to us. The retail sector as we see it today will be reshaped and it will no longer be just socioeconomic activity. It will be rather the consequence of a normal and contextual need, related to tourism, education or day-to-day activities.
How has the approach to store concepts changed in the last two decades?
At the beginning, we came up with designs for the owner of a store; later for the developer of a commercial center and then for a so called "persona". We began to think in a much more nuanced way from different perspectives: the psychological perspective and the flow between interaction points with the real, virtual and augmented reality.
What's your most important project so far and what did you learn from it?
Liberty Mall was the most organized, safest and cleanest site where I have worked in Romania. The Noriel stores and Dona pharmacies have been the largest chains and the most complex projects for us, but also those which made a higher contribution to our income. The project we developed in Russia was by far the one which most valued our creative potential, cross-culture and power to access very different environments and social and professional fields. Aside from having innovated at the frontier of retail, I learned to appreciate much more local creativity and intelligence.
What stages has the local retail sector gone through?
In my opinion, the local retail sector has witnessed four major stages in the past twenty years: outlawry, the external invasion, the crisis and nationalism. In the outlawry stage, there was a lack of services and the retail sector was the first economic field to explode. It was commerce based on imports. Everyone was in with a chance, and many entrepreneurs started to make small investments. The lohn system generated an infusion of technology and know-how in fashion retail. Last but not least, promotions were nonexistent. Malls had no cinemas while their food courts were comprised of a McDonalds, one or two restaurants and a coffee house.
The so-called external invasion was characterized by the advent of large international retailers which increased the standards of image and services. It was the moment when players started to copy other formats or concepts. Meanwhile, constructors, retailers, developers and customers could have some terms to make comparisons. Specific standards and external specialists started to emerge and impose expensive and sophisticated systems like lighting furniture and display systems along with market strategies, market segmentation and tenants' books. About 90 percent of the local retailers copied or drew inspiration from the identity of the brands that had already entered or would enter the local market. We're talking about marketing and facility management, retail architecture, design, identity, storefronts, flows and effective use of a commercial space. It was a frenetic time dominated by a fever that included the whole industry eager to seize the market.
From 2008 consumption shrank, and this put investments on hold while many sites were closed. In times of crisis, retailers lift their heads gradually, although they didn't have the same appetite to sign contracts with the new malls that were about to be opened like AFI Cotroceni (2009), Maritimo (2011), Ploiesti Shopping Center (2012) and Promenada (2013).
Last but not least, after the crisis, the nationalism frenzy gained momentum and extended each year to more social levels, being visible in product design, marketing and the arrangement of retail spaces. Finally, the market needed a brand identity, a differentiation and local detail. Both local producers and retailers started to sell their products through their own chain of stores.
You are about to launch the Retail Academy. What can you tell us about this project and what does it bring to the Romanian market?
The Retail Academy will revolutionize the retail sector and the associative culture of creatives and businesspeople in Romania. It will comprise 12 specialists with international expertise in fields like behaviourism, audio and olfactory identity, IT architecture, HR, cultural anthropology, gamification, marketing and communication, facilitation, design thinking and production.
The Retail Academy will be the first retail community oriented towards designing prototypes. It has been conceived as an environment where some utopian projects for the retailers and entrepreneurs of today will become valid tools in the society of tomorrow.