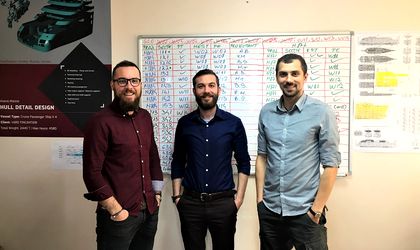 Three Romanian engineering entrepreneurs in their early 30s have created their own naval design company in early 2016 following an initial investment of EUR 40,000 coming from personal savings and bank loans.
Fast forward to 2018, GLO MARINE expects a turnover of EUR 750,000 and the business owners are planning to expand their naval architecture and consulting operations across Europe.
Two of the founders of GLO MARINE landed jobs abroad in the naval sector after graduating from university and later returned in Galati to start the company. Already, GLO Marine operates through a secondary branch in the UK.
The entrepreneurs see a huge potential for the shipbuilding industry in Romania, underlining the fact that a national strategy is needed for the development of the sector. Moving to the future of GLO Marine, the young team talks about the creation of an R&D facility and the attraction of new talent for further development.
How did you decide to get back in Romania and how did you start to talk about creating GLO Marine? How did you finance the start-up?
Us, Liviu Galatanu, Liviu Moise and Alin Pohilca, we met each other during their studies at the Faculty of Naval Architecture. We started the collaboration since then, working in a research team lead by the current dean of the Faculty, PhD, professor engineer Costel Iulian Mocanu. After graduation, Liviu Galatanu and Alin continued their MSc studies at University College of London, while Liviu Moise was employed in VARD Tulcea as a naval architect, studying for his Master's degree in Galati. We remained in contact during this time and fast forward four years later, after different jobs in the UK, Scotland, Norway, the following events happened:
12.2014 – Liviu Galatanu starts GL Offshore Ltd. In the UK
12.2015 – Alin Pohilca joins the company
06.2016 – GL Offshore Design SRL-D is opened in Romania
12.2016 – GL Offshore Design SRL-D signs its first contract in Romania
03.2017 – both companies change their name to GLO MARINE
10.2017 – Liviu Moise is officially onboard
The company in Romania was set up upon identifying a good business opportunity in the maritime industry here, especially in the potential collaboration with VARD Tulcea. GL Offshore Ltd. was already active in the Oil & Gas market, but the economic crisis slowed the industry down considerably.
The GLO MARINE project took about 3 years from idea to its present shape, during which time a lot of passion, ambition, time and money were invested. The initial financial investment was about 40.000 euros. The money came from personal savings and bank loans.
Does Romania have a market for naval design?
Romania is a small player in the European naval design market but has been in this market for many years and it is recognized as a reliable supplier of both specialized people and services in the industry. The naval shipyards in Tulcea, Braila and Galati are well known, and have been owned and operated by big international players during the years.
Unfortunately, Romania builds vessels mainly for export. The local companies offer turnkey solutions or manufacture assistance for international shipbuilding companies. There is no national strategy to support the growth of the industry orientated towards services, rather than cheap workforce as it stands now.
The potential of the sector can be huge. A good example would be the Polish strategy, a country that developed its shipbuilding industry considerably in the last 10 years. But they had a plan, a long-term strategy. And we're not talking only about shipyards here, but also about companies that offer consultancy, design, research, education… there's a lot we could talk about here.
Romania doesn't have a fleet of commercial ships at present. How does this impact your operations?
Romania's fleet or its absence does not impact our operations. Our company services are directed toward newbuilds and in-service vessel. This applies to any client that plans to build a new vessel or to service its existing ones. It would be a pleasure to work for Romanian shipowners and operators, but that is maybe something for the future.
What international markets do you target this year?
This year we're looking to expand our client portfolio and set up new collaborations with companies in Europe. We're in contact with some businesses in the UK, Norway and Lithuania. We're not searching only for new clients, we want to be part of interesting projects also. So, it's more about the quality of the projects we want to be involved in, rather than the pure revenue. Innovation is happening all around the industry and our strategy is to be part of it.
You opened a consultancy office in the UK. Are you planning to expand in other locations?
We are not planning an expansion to another country any time soon. At the moment, we are working on developing the business as it stands, stabilizing it and investing in human resources. We are involved in the academic life also, as two of us, Alin and Liviu Galatanu, are also undergoing PhD programs in Romania and looking to create more complete academic experiences for the students of the Naval Architecture Faculty.
Are you looking for finance or for an investor at this moment?
We are not searching for an investor in our naval architecture and design business. If the need arises, we will opt for financing through banks, but now we're self-sustainable and can invest in our development and growth without external financial aid.
We have other projects in mind thought. We're looking into developing an educational software for the maritime industry and some projects in retail, projects where we might consider the idea of financing through banks or maybe a partner / investor.
What are the company's plans in terms of number of employees and turnover for this year?
We estimate that our business will double in value in the next 12 months and our team will grow from 22 to 30-35 people. The overall revenue should reach the figure of EUR 700,000 at the end of 2018, if it all goes according to plan. The team will surely grow, as we're also taking students in training and internship programs. We hope that the best of them will continue working with us on the long run.
Our development strategy also involves the build of our own offices / headquarters sometime next year and we're preparing for that. We want to include also a small research and development facility, not only desks and cubicals.
Our plans include many directions to develop and we are encouraged by our previous business experiences, which means the future will be challenging but interesting and exciting also.