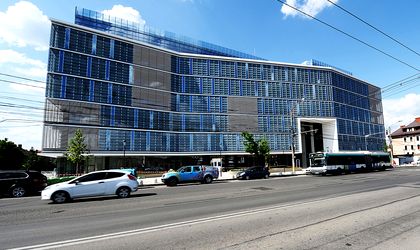 The second development phase of The Office in Cluj-Napoca developed by NEPI and Romanian entrepreneur Ovidiu Sandor has secured a BREEAM Excellent certification, according to BuildGreen, the company that managed the certification process.
With a score of 80 points, the projects now has the highest certification level outside Bucharest and the second highest in Romania, according to company data.
The Office is located in downtown Cluj-Napoca and it comprises three buildings. The second development phase was delivered at the end of 2015 and the third one is scheduled for the summer of 2017. The whole project will cover 60,000 sqm of office space and it estimated it will house some 5,000 employees. Current tenants include 3Pillar Global, Betfair, Bombardier, Bosch, Corporate Office Solutions (COS), Deloitte, EY, HP, Leoni, Lohika Systems, National Instruments, TUI, Wolters Kluwer, Yardi and Yonder.
BuildGreen is presently managing the green certification process of over 20 projects in Romania and another 8 in the region. Since it was founded in 2010 the company has been involved of the certification process of over 60 real estate projects in Central and Eastern Europe.