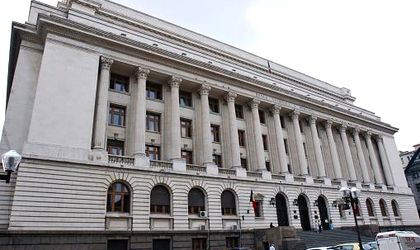 National Bank of Romania does not agree with the proposal of completing Government Ordinance 13/2011 with limiting the legal penalty interest rate and the interest rates on credits, but it has decide to give its own example on how the ceilings should be calculated. According to the letter send by Mugur Isarescu, Governor of the central bank, to the president of the Economic Committee of the Chamber of Deputies, NBR is proposing a methodology for determining the ceilings that could be applied to the Effective Annual Interest Rate (DAE).
NBR proposal is based on models that other European countries used and adapted for the Romanian banking sector. The central bank proposes "interest rates established on the basis of functional criteria that do not create disruptive effects on the financial market".
Basically, NBR proposal is to calculate the ceilings based on medium rates of DAE for the last month of the previous trimester and not based on NBR benchmark interest rate, the way that Daniel Zamfir, senator and other of his colleagues, intended.
In the letter, NBR sees the interest rate for RON housing loans at top 8.69 percent for the second quarter of 2018, starting from the medium interest rate in December 2017 (4.83 percent) and multiplying 1.8 times. In the same way, RON unsecured consumer loans should have a ceiling at 16.9 percent (10.24 percent x 1.65), RON credit card loans at 40.96 percent (10.24 x 4), RON secured consumer loans at 15.36 percent (10.24 x 1.5), EUR/USD housing loans at 8.17 percent (4.54 x 1.8), EUR/USD unsecured consumer loans at 7.23 percent (4.38 x 1.65), EUR/USD credit card loans al 17.52 percent (4.38 x 4) and EUR/USD secured consumer loans at 6.57 percent (4.38 x 1.5).
One point that NBR makes very clear is that there is no possibility to use the new calculation method proposed by Daniel for old loans stating that if this interest rates were used by bank in 2016 and 2017 there would be a loss in the system of RON 5.7 million in 2016 and RON 12.5 million in 2017. Using the NBR method banks loss would be acceptable, the equivalent of 0.02 percent of banks own capital in 2016 and 0.03 percent in 2017.
Daniel Zamfir proposal was to establish a ceiling 2.5 times NBR benchmark interest rate for housing loans and the ceiling for consumer loans at 18 percent. The ceiling was supposed to apply for non-financial institutions (IFN) also, whose interest rate for very short time micro-credits can go up to 2.000 percent.