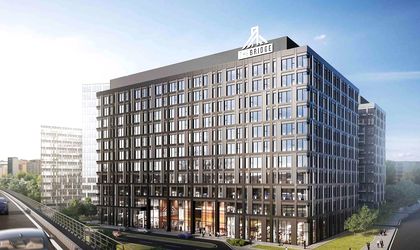 The majority of real estate consultants estimated that at the end of the year the value of transaction on the Romanian market would exceed EUR 1 billion, but until now, the numbers have not matched their predictions.
According to the consultants, the year started out well with the sale of Militari Shopping Center in West Bucharest to the South-African investment fund Mas Real Estate. The seller was the Israeli company Atrium European Real Estate, which withdrew from the local market for EUR 95 million.
Other major transactions included the sale of the first building in the Campus 6 office complex, a project by the Swedish developer Skanska, which was sold to the Austrian company CA Immo for EUR 53 million, as well as the sale of office complex Oregon Park, developed by Portland Trust, sold to Lion's Head Investment for a sum estimated between EUR 160-180 million.
These were the most important transactions of the first half of the year, with a total estimated at around EUR 328 million.
Second semester transactions
In the second semester there was the EUR 200 million transaction between Romanian companies Dedeman and Forte Partners for The Bridge, followed by the EUR 10 million purchase of a 50,000 sqm land plot by Speedwell from Immofinanz, and another land acquired in Bucharest, the 47,000 sqm and EUR 23 million land plot behind AFI Cotroceni Mall, which was taken over by AFI Europe.
Returning to offices, Czech investor PPF signed the acquisition of Crystal Tower office for a value between EUR 40 and 50 million, from Search Corporation, a company controlled by businessman Michael Stanciu.
Notable transactions also took place in other Romanian cities: in Cluj-Napoca, British fund Property First acquired Maestro Business Center – an almost 7,000 sqm office building – for an estimated EUR 5 to 7 million.
An industrial platform in Iasi was purchased by real estate developer Prime Kapital, set up by Martin Slabbert and Victor Semionov, former managers of the South African investment fund NEPI Rockcastle.
Teba Industry's 10-hectare platform was bought for around EUR 28 million by Prime Kapital and its partner MAS RE, who intend to turn the former plant into a mixed project that includes more than 100,000 square meters of office spaces and a hotel, as well as 2,500 apartments. The development budget for this project is around EUR 200 million.
Until now, the values of transactions in the second semester of the year are almost equal with those in the first semester – a little above 300 million –  but, as Tim Wilkinson, partner at Capital Markets at Cushman & Wakefield Echinox has said repeatedly, there are more transactions in various stages to be completed, and if those are finalized until the end of the year, there is a chance that the total value of transactions reaches at least EUR 1 billion.