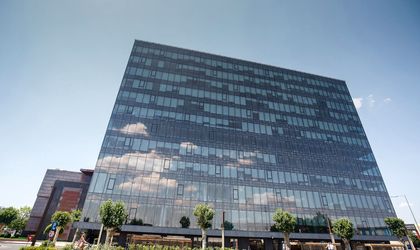 One of the most spectacular real estate investments in Romania is currently underway in Timişoara. The IULIUS Company is developing here the Openville project, the second mixed-use project in its portfolio.
Openville is a comprehensive lifestyle project, the ideal venue in the center of Timişoara for working in the most modern office spaces, spending the day shopping, dining with friends, relaxing in the cafés overlooking the splendid park and enjoying a variety of events. Iulius Mall will be integrated in the project and two office buildings of the total seven, that will accommodate thousands of employees, being already raised in its vicinity. The works for the third office building were started this June, with the Visma Software Company already leasing 4,200 sqm of the 18,000 sqm available in the building.
In the near future, the western region of Romania will be able to take pride in one of the most cosmopolitan business and leisure destinations in Romania. The Openville project will include all the necessary elements for an active lifestyle, enabling people to save time, as the project will be both a business hub and a comprehensive leisure destination. The features that will attract millions of people from the entire region and from abroad include 450 stores, restaurants and cafés with themed designs, overlooking the green spaces, multiplex cinema, youth entertainment center, outdoor skating rink, carousel for children, and four event halls.
The area of Iulius Mall Timişoara will double via the additional 60,000 sqm to be created, the expansion works being scheduled to commence this year.
THE LARGEST MIXED-USE DEVELOPMENT IN THE WEST OF ROMANIA
One of the most anticipated features of the project is the Openville Park – over 55,000 sqm of leisure spaces located at the very core of the development. The new green area will represent the largest suspended park in Romania, being set for fit-out on top of the upcoming underground parking facility of the project.
In Openville, the people of Timişoara will also have access to over 4,050 parking spaces. The project includes the first multilevel parking facility in Timişoara, which is set for completion this autumn, and construction works are also scheduled to begin for a new underground parking facility.
Openville is an investment estimated at over EUR 220 million. The largest share of the project is dedicated to the office component, with a total leasable area of approximately 13o,000 sqm, developed under the United Business Center (UBC) brand. Of the total area, 18,000 sqm were delivered this January in the UBC 2 building (fully leased), 13,000 sqm are soon due for completion in UBC 1, and another 18,000 sqm are pending construction in UBC 3.
The construction works are due to commence over the next period for two other class A office buildings (with a total area of 55,000 sqm) in the project located in the vicinity of Iulius Mall Timişoara.