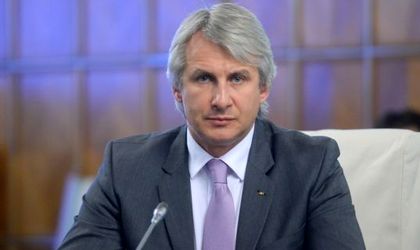 The minister of Public Finances, Eugen Teodorovici, urges the president of Romania, Klaus Iohannis, to pay "Immediately" to the state budget the sum of RON 1.2 million that the president has cashed from the rent on the building on Nicolae Balcescu street from Sibiu, a house that president Iohannis and his wife lost in the first phase of the trial.
"It would be fair, legal and moral on the part of the President to pay that sum immediately to the Romanian State. (…) The amount will be paid anyway at the time when the Hunedoara court will decide, in those cases pending, whether the claimant is entitled to a part of that property or not. If he does, he will receive an amount, if he does not, it means that the Romanian state will keep the entire amount, but anyway that sum must be given to the Romanian state, there is no doubt about it and I think that Mr. President should be an example for all Romanians and make immediate payment to the Romanian state of the sum of RON 1.2 million," said Teodorovici cited by Agerpres.
The Finance Minister believes that President Iohannis should no longer wait for the court's decision on the property in Sibiu, but be a model for the population and pay the sum of the rents.
"The amount that needs to be paid is well knonw by Mr. President because he paid the taxes for that amount, and every day of delay in payment of that amount will entail the payment of interest, because today the President benefits from that amount, he uses it. If it has spent it, it has to give it back, it is not our job as a state if he has spent it or not. The state needs every single dime in order to use it in the interest of the communities," added Teodorovici.
Asked if such a situation would not be unique for Romania, the minister replied that the country's president should be an example, especially if, as Teodorovici says, he might have used the money to "get rich without justification".
"This is why he is the president of Romania, because he is unique in Romania, and I suppose that he was chosen to be an example to all of us. That is why he should be an example to follow and make the payment. If I were in his position, that's what I would do, because between 2001-2015 you used some money to get rich," said Teodorovici.
The Minister of Public Finance stated that in the matter of recovering the sum of RON 1,278,856 from the Iohannis family, representing the rents received during the period 2001-2015, does not act on the order of someone and that once the ANAF checks have been completed in this case, the data will be made public.