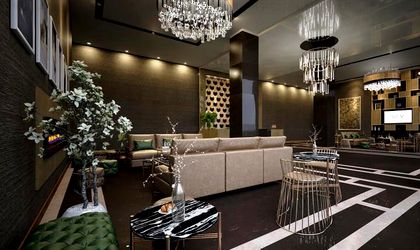 Romania has a small, but relative strong luxury residential market, beginning with pre-war refurbished buildings and continuing with small 5-10 flats blocks, or penthouses overlooking the city.
"It is a very small percentage of medium-medium plus products, which are close to EUR one million. If you go to one of these projects, only a few apartments, practically penthouses, are approaching this level. 1 percent or 2 percent of the project," Mihaela Pana, Residential Agency partner with Cushman Wakefield Echinox, told BR.
In the luxury residential segment, Bucharest develops mainly in two directions. One is boutique, high quality architectural and finishes projects, many with Romanian developers and, old villas, the opportunity to restore, transform and use the maximum potential elements of interwar architecture, a segment in which Bucharest is still rich.
"The luxury transactions are for large apartments, penthouses and villas. Most have a budget of EUR one million or EUR million and a half. For smaller amounts of EUR 500,000 there are not available many offers. Much of the real demand goes up to EUR 700,000, is approaching or surpassing one million euros," states Pana.
Things have changed
First of all, nobody throws money like crazy as in 2008. Developers and buyers, as well, are carefull. The first category knows that they can't put everything on the customer plate and it will be eaten. The second one seem to finally find out that the money are not easy to make, and is very well informed about the market.
"What has changed for the buyer is that now he's looking for a cleaner, healthier building, quality materials. You can not get through a crisis and learn nothing. Buyers are more attentive to what the building offers, but also to costs. No matter paying a million or more, they look at costs", said Pana.
The category that can afford residential properties with prices above EUR one million is not that numerous. Young businessmen or businesswomen owning succesfull companies, older people who has already developed a business and may want to move his children to Bucharest, sucesfull lawyers or artists.
"The potential buyer has changed. New customers have emerged, but developers already know how to move. Buyers ask more questions, they want to know exactly what they are buying and if they are offered what it was promised. On average, we sell about 5 apartments per month, " Beatrice Dumitrascu, vice president residential sales at One United Properties explains.
Anyway, if last year was characterized by an increased appetite for people interested in buying luxury homes compared to the period 2009-2015, the trend seems to be maintained this year with the new premium projects to be delivered.
The average price for luxury properties is currently between  EUR 2,800/sqm to EUR 3,500/sqm in Bucharest and 10 percent to 30 percent lower in the other big cities, but there are properties where medium price exceedes EUR 6,000 or EUR 7,000/sqm in the case of special projects and buildings with a powerfull brand which can becomea image statement for the owner.
Most expensive homes in Romania
1) EUR 9,900,000 Villa in Kiseleff area.
The property is 68 years old and has easy access to all the town directions. The building is composed of basement, ground floor, floor.
It has gym and a swimming pool. The built surface is 1,700 sqm and the surrounding land has 2,000 sqm.
2) EUR 8,500,000 villa in Aviatorilor area.
Consolidated and refurbished to the last detail, the 9 rooms villa is impressive and kept the architectural line.
It is fully furnished in Byzantine style and it has a built area of ​​1,600 sqm, a total land of 740 sqm and it he useful area is around 1,000 sqm.
3) EUR 8,000,000 villa close to Rosetti Square
Historic B-Class Villa, built under French architectural influence, located 250 meters from Rosetti Square and Universitate Metro Station. The building has 20 rooms, 2,000 sqm usable area.
It was built in 1900 on a 1,000 sqm land plot. It was completely refurbished in 2016, with the restoration of the original architecture.
4) EUR 6,000,000 Piata Victoriei villa.
The first new construction in top, was delivered this year. With 1,100 sqm usable surface, and 700 smq land plot the villa has three balconies and one 20 sqm terrace.
The 20 rooms villa has a 20 m opening to the street.
5) EUR 2,200,000 duplex Nordului – Herastrau Park
A 6 rooms smarthome, built close to Herastrau Park in 2008, at a ground floor of a small block. The duplex has 385 sqm, 7 bathrooms and two parking spaces.
The lights, curtains, blinds, temperature monitoring on every area of ​​the house, music, TV systems, can all be controlled from a console.
Information source: imobiliare.ro, olx.ro.