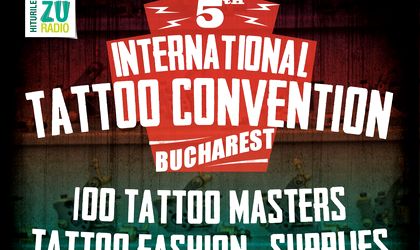 The International Tattoo Convention Bucharest during 10-12th of October at Turbohalle with more than 100 attending.
Gaby & Victor Peralta, convention's special guests arriving from Argentina this year are going to challenge some cultural values people might have here, in Bucharest. From Venezuela, Emilio Gonzalez is re-joining the convention. América Noroño Orea, well known international beauty model, will be on-site to help one of the most eccentric body modification artists.
Gonzalez is one of the few body modification artists that had studied medicine beforehand, to do what he does best. For the strong and powerful souls, these special guests will organise impressive demos and freak shows, doing body suspensions using the flesh, bone and skin from public volunteers, revealing ancient tribal body secrets kept hidden from the contemporary public eyes.
Nowadays, a wide range of participants are enjoying tattoo conventions and the organisers adapted by building up an alternative events schedule to meet their expectations, ranging from movie screenings, to various concerts – e.g. hip-hop with Șișu, El Nino and Guests, piano concerts or Dub, Rock & Pop DJ sets.
For the first time in the event's history, Romanian Folk Dances are part of the Convention's schedule, as a response to international tattoo artists' requests.
On Facebook, tattooed ladies can apply for Miss Tattoo Convention Bucharest 2014 contest selection. The final convention program will be available soon online on tattooconvention.ro and Facebook.
Simple passes for all-day-access are available for 30 lei on MyTicket & Eventim networks. Starting with this edition, you can also purchase VIP passes and get a package consisting of the official T-shirt, VIP badge lanyard, special access to the Meet&Greet sessions, and priority to the special events organised during the convention plus an invitation to the official artists after-party – priced 100 lei. During the event, all-day-access passes are available at the entrance for 40 lei and plain access tickets can be bought for 10 lei before 6pm or 20 lei for late-comers.