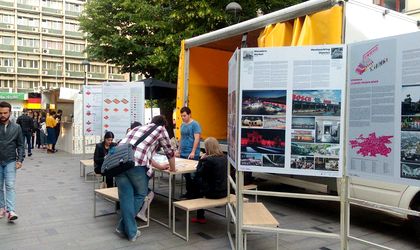 The Institute showcases the first image of the future Cartier Creativ (Creative Neighborhood), during 20-28 May, during the fifth edition of Romanian Design Week. The initiative is the first of this kind in Bucharest and highlights the creativity and the cultural effervescence of Bucharest.
CN aims to bring together some creative superior institutions, cultural institutions, theaters & cinemas, workshops, studious & agencies, shops, restaurants, coffee shops, hotels, as well as the public administration.
During RDW 2017, CN will host a series of special events, organized in order to offer the guests a first experience in the new Bucharest's destination, as well as conferences and debates that can bring in discussion several models of creative neighborhoods in the world, as well as possible scenarios for developing Bucharest's first creative district.
The Creative Neighborhood represents also the central space of Romanian Design Week this year, the central exhibition being organized on 45, Grigore Colbacescu Street. The space covers over 4.000 square meters and will host a series of international figures, disciplines and satellite exhibitions organized by the Romanian Design Week's partners, as well as the central exhibition that will present over 150 Romanian designers.
The Creative neighborhood is a space that highlights the use of the historic heritage, contributing to its harmonious integration in the urban landscape, using the energy, the talent and the intellectual and material resources of the creative businesses, the organizations and the cultural institutions that are already present in the area.
″We started from the idea that Romania has some wonderful ambassadors in the creative industries – film, music, advertising, fashion, IT etc., but, in a way, we don't succeed in putting the Creative attribute on our own country brand. A reason is that we don't succeed in concentrating that creativity in its own space, everything remaining at a sum of special Facebook events. Romania is very big, the same is Bucharest, therefore we are starting from study cases such as Germany or Sweden. These two countries concentrated on their own capital, and Berlin or Stockholm promoted creative districts that succeeded in attracting content and creative communities. The effect in only some years was that those cities were perceived as being extraordinary and a package, the whole country receiving the attribute of creative on their own brand," explained Andrei Bortun, CEO The Institute.
The full program can be seen at www.institute.ro, starting May 15 2017.
Romanita Oprea