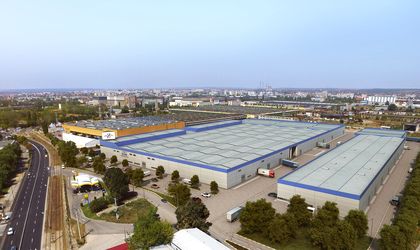 The industrial sector will witness this year its most spectacular development in recent history, and for the first time exceed the 1 million sqm threshold to be delivered in a single year at the national level.
The latest analysis provided by Activ Property Services shows that over 1,020,000 sqm of new spaces are announced for delivery this year, an over 70 percent yearly growth. Over 540,000 sqm have been already completed since the start of this year, while the rest of the planned area is in an advanced stage of construction.
This year's new stock includes speculative areas of 765,000 sqm GLA and owner-occupied buildings in excess of 255,000 sqm GLA. The speculative stock announced for this year (765,000 sqm) is larger than the stock completed during the economic crisis period (2009-2013).
Record year
2018 is announced to be a record year for the industrial sector, to reach a historic high following consecutive annual jumps of 40-50 percent in the past 3 years. Development activity has restarted since 2015 on the back of demand growth, coming especially from the logistics segment, last year having reached completions totaling 593,000 sqm GLA.
The positive economic growth and the accelerated increases in consumptions have brought growing demand for industrial space, with a 70 percent jump last year when take-up reached a record of 730,000 sqm GLA of major leases at national level.
Major leases of over 350,000 sqm GLA were reported during the first 9 months of this year, of which 60 percent in were in Bucharest area. Important volumes were also recorded in Pitesti, Craiova, Cluj-Napoca and for the first time in Buzau, where Ursus Breweries leased 20,000 sqm. Over 90 percent of the demand came for logistics and warehousing activities.
2018 – Major Lease Transactions (>15,000 sq m)
Tenant
Sector
GLA (sqm)
City
Project
Metro Cash & Carry
Retail
58,000
Bucharest
WDP Stefanesti
Aquila
Logistics
24,000
Bucharest
WDP Dragomiresti
LPP Romania Fashion
Retail
22,100
Bucharest
WDP Stefanesti
DB Schenker
Logistics
21,000
Bucharest
CTPark Bucharest West
Ursus Breweries
FMCG
20,000
Buzau
WDP Buzau
Ceva Logistics
Logistics
18,000
Pitesti
WDP Oarja
Van Moer
Logistics
15,000
Bucharest
CTPark Bucharest West
Source: Activ Property Services
Rents remain stable
Industrial rents maintain stable levels, with slight increases sometimes reported for asking prices, and averaging around EUR 3.5-4/sqm/month for A-class modern units as part of the main industrial hubs.
Activ Property Services' analysis shows that development activity will continue at a high pace in 2019 as well, when over 700,000 sqm of new space has potential for delivery, of which over 390,000 sqm are already under construction.