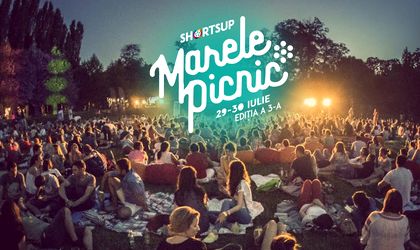 The third edition of The Great Picnic ShortsUP music and film festival will be held in Bucharest's Botanical Garden on July 29 and July 30 from 19:00.
The event is a retrospective of the most popular short films seen at ShortsUP events in the last four years. In addition to this there will be guided tours in the garden, as well as outdoor games, fresh snacks and a multimedia installation activated by tactile sensors created by Onscreen.
Besides the short films scheduled, the audience can also see a series of video-testimonials inspired by Cotroceni's people and stories, which were created by the ShortsUP team together with the "In Cotroceni" association.
The Great Picnic will also present to the public a live jazz and funk music concert by JazzyBIT trio, consisting of Teodor Pop, Mihail Moldoveanu and Szabo Csongor-Zsolt.
On Saturday there will also be a video-mapping project, meant to highlight the area, considered to be one of the most beautiful green spaces in Bucharest.
The event is part of the "Bucharest, the In-Visible City" program, created by the Bucharest City Hall and Arcub.
Tickets can be purchased prior to the event online from Eventbook, My Ticket and Eventim for RON 25 per night or RON 35 per pass or on the spot for RON 30 per night or RON 40 per pass. In case of bad weather, the event will be rescheduled for the following weekend, on August 5 and August 6.
Andreea Dulgheru