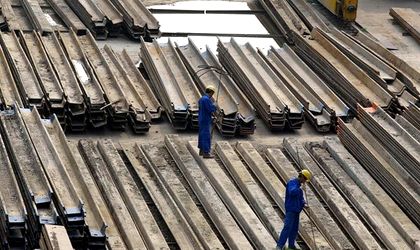 Global demand for steel will probably grow by 3.9 percent this year to 1.658 billion tons due to China growing in consumption. Nevertheless, the demand it will slow down next year when it will record an advance of only 1.4 percent to 1.681 billion tons, according to estimates of the World Steel Association (Worldsteel) published on Tuesday.
In China, steel consumption would grow by 6 percent this year to 781 million tonnes and remain at this level in 2019.
"The increase in steel demand on the Chinese market would decrease in the absence of measures stimulating the economy, "warns the Association.
It voiced concern that the US-China trade war undermines global economic growth after the IMF worsened the forecast for world GDP growth at 3.7 percent 2018 and 2019 last week (compared to a 3,9 percent previously estimated), respectively at the same level as 2017.
The steel industry, worth USD 900 billion a year, is seen as an indicator of the global economy.
Global trade tensions have escalated in recent months, with US tariffs for imports of aluminum and steel, as well as USD 250 billion for China's imports of Chinese products.
In response, China and the European Union have imposed similar tariffs on a number of US products. Analysts point out that although these rates have had direct direct effects so far, the uncertainty that they have generated may have already led to a reduction in investment.