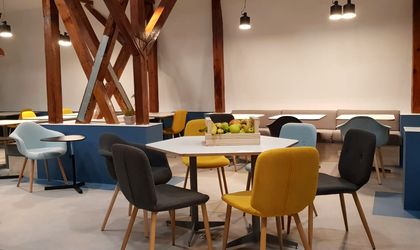 Andrei Cretu and Iulian Circiumaru, co-founders of 7card & V7 Capital, opened in the center of Bucharest, on George Enescu street, a two-storey coworking space of 350 square meters: the V7 Startup Studio.
The space is located in a heritage mansion dating back to 1893 alongside the mezzanine in a new building from which the building is connected. The space has a capacity of 50 seats and represents an investment of EUR 100,000 made by the two entrepreneurs in order to support the businesses at the beginning of the road and to turn it into a business incubator in the next year.
Members have flexible work desks and access to meeting and conference rooms, the internet, a kitchen (where coffee, water, tea), storage or relaxation areas, a library and a printer are available. In addition, they will also have access to the benefits offered in partnership with the businesses that will have the office in the hub.
V7 Startup Studio has been designed by architects as a modular space, both at the attic and at the mezzanine can be organized various types of events, from workshops, weekend courses, product launches, pitching sessions or networking events.
Investors have proposed to organize 2-3 community events per month and around 6-8 to be organized by other companies.
"How can we make space live, creative, yet productive? How can we create such a community? These were our questions at first when we first saw the space. So we've created a Startup Studio, as we like to call it, a place you love to work day by day, trying to scale up a business with other people just as passionate as you from you have what to teach. Anyone who has this motivation is welcome to work from a hub, "said Andrei Cretu, co-founder of 7card and V7 Capital, the investment fund that supports and invests in potential businesses.
The Hub offers monthly subscriptions of EUR 220, but also half-day access, a full day or 10 days / month, at rates starting at EUR 15. Space is available 24/7 for members who have a monthly subscription, a program suitable for all entrepreneurs who organize their time as they like.
"As opposed to other hubs in the market, we differentiate ourselves by input from Andrei and Iulian, entrepreneurs who have made an exit and who want to be present next to other entrepreneurs in their most difficult stage, that is, with mentoring or even investment, where appropriate. We believe that entrepreneurs can make it easier when people with similar experiences are alongside them, "adds Andrei Neacsu, community manager.
The targeted tenants may be former corporations specializing in a particular field, who decide to put their ideas into practice, are connected to everything new, are sociable and interested in working from a common space of co-creation; freelancers from the liberal professions, architects, lawyers, communication specialists, designers who want a modern office with facilities located right in the city center; tourists who work remote and need a workplace different from a hotel lobby or a café or just want to make new acquaintances in the city; companies that want to give employees a few days of work per month outside their office give them the opportunity to escape from their daily routine to work from unconventional spaces.
"One third of the seats were occupied before the opening because of the high demand for such workplaces in Bucharest, especially by people who knew us and found our concept. The investment from the V7 Capital investment fund is estimated to be amortized in about a year and a half. But for 2019, the first year of operation, we hope to reach a turnover of 100,000 euros, "says Iulian Circiumaru, co-founder of 7card & V7 Capital.
In Bucharest there are currently 52 coworking spaces, respectively 45 in other cities, most of them being 13 in Cluj-Napoca. For comparison, Ukraine has 99 such spaces, and the Czech Republic, Austria and Poland each 340 each.
Worldwide, the coworking space market is 1 percent of the office space, with a total of 15,000 seats today, with estimates of up to 25,000 in 2025. Coworking spaces now have over 1.2 million residents worldwide. A 35 percent of the US workforce is freelance, and in France, 50 percent of hub residents are hired, not entrepreneurs, which shows the increase in interest for this model of shared space by companies.