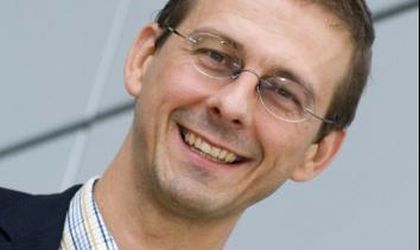 The Belgian logistics, commercial and industrial real estate developer Alinso Group has announced the launch of the first independently managed Inter-Modal Rail Terminal in Romania, whose first stage will reach completion at the start of 2011. The Euro Gate Terminal Ploiesti represents a total investment amount of 7 million Euro and is located at the junction of important road and rail transport routes in Romania.
"Conceived as a strategic project of National importance, the Euro Gate Terminal Ploiesti will create the link between the Eastern and Western parts of the country as well as ports on the Black Sea. Euro Gate Terminal will further stimulate the economic growth of the region of Prahova, as well as increase the competitive position of the national economy currently suffering from the lack of appropriate infrastructure" stated Ivan Lokere, CEO Alinso Group (in picture).
The project, with a total surface of 100.000 m2 (10 hectares) and 3 rail tracks of 2.200 meters total length, will have a storage capacity of 5.750 TEU at completion and will become operational at the beginning of 2011 in a first phase of development. The terminal's facilities include: security 24/7, CCTV, customs, container freight station, container repair station, fuel station, car and truck parking. Regarding the need
Alinso Group is also the developer of Ploiesti West Park, with a total construction value of buildings and infrastructure works of 750 million EUR for the duration of the project.
Corina Dumitrescu