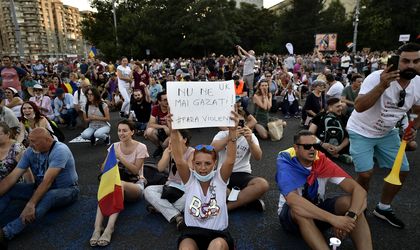 The first gendarmerie official to take responsibility for the violence on August 10th protest is Laurentiu Cazan, the gendarmerie coordinator for that day. He declared on National TV (TVR 1) that he apologisez to those who suffered without being guilty of anything after the intervention of the police. He also said that he did not take any decision on a resignation and he has nothing to reproach.
"I apologize to all those who have all suffered free of charge from the intervention of the Gendarmerie. Such situations are punctually analyzed. I take responsibility for everything that happened in the market, "said Cazan.
Laurentiu Cazan, who ordered the intervention of the gendarmes to protest, also said that Prefect of Bucharest, Speranta Cliseru, was in Victoria Square, who observed the holding of the rally and the order for evacuation of the area was signed around 20:00, then when the situation "degenerated".
"I have always been in contact with all the authorities, including the prefect, who was present at the premises at 16:00. When I saw that things started to degenerate, when the tension grew, I personally talked to the prefect and told her that if the actions will degenerate, if we fail to have a moment when the attacks cease, we will have to restore public order in the area. She said she was ready, I was on the spot all the time together, I saw what it was about, and it was decided to have an order to restore public order. These things were around 20:00," said Cazan, deputy of the Public Order Service of the Gendarmerie of Bucharest.