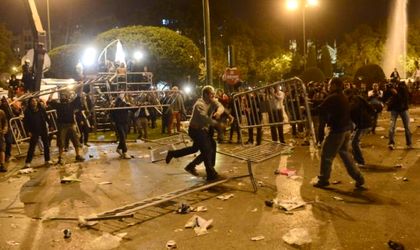 The female gendarme Stefania, beaten by some hooligans at the anti-government protest and saved by protesters, was released from the hospital and she is in good condition. She was hospitalized on Friday night after she suffered several head and body injuries, but non that would be life-threatening.
The controversy over Stefania's case was started by Marius Militaru, Gendarmery speaker, who said that she is in danger to become paralyzed due to the suspicion of a cervical spine rupture.
In reality, she was walking on her own legs after being rescued from the aggression, as shown in the video made by Libertatea reporters. Also, the medics from Floreasca Emergency Hospital knew right after the hospitalization that she was not in danger the have a cervical spine rupture, but the Gendarmery officials decided to make the statements anyway.
Stefania and a colleague were beaten Friday night around 23:00 after a gendarme contingent tried to evacuate Victoria Square. They were isolated from the group and some hooligans started beating them, being saved by other protesters.
Around 100,000 people protested in front of the Government building, on Friday evening, in what was expected to be the biggest rally of Romanians from the Diaspora.