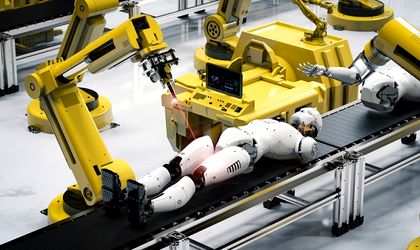 At this year's Hannover Messe, one of the world's largest trade fairs, huge companies like Bosch, Festo and SAP introduced their ideas for the factories of tomorrow, which include concepts like digital twins, robots that learn and artificial intelligence.
Bosch: the adaptable factory
Bosch's idea for the factory of the future can be altered easily with barring walls, ceilings and floors, and assembly lines with modular structures.
The system is made possible by a decentralised automation concept with drive and control technology, 5G communications and an inductive charging system. It responds to companies' need for more flexibility, as in the future product lifecycles will be shorter, batch sizes will be smaller and products will need more customizations.
According to Global Energy World, Bosch will invest EUR 100 million in a new smart factory in Celaya, Mexico, which will create over 1,200 new jobs over the coming years. The plant will employ a manufacturing execution system which automatically collects data and shares production information in real time.
Festo: better man-machine collaboration
Festo believes that while humans won't disappear from factories, they will receive more support from robots, so they envisioned how this collaboration could be optimised.
A connected working environment called BionicWorkplace unifies self-learning systems, artificial intelligence and automation solutions. The operator works with a bionic arm that can be controlled with movement, touch or speech. Software analyses the interaction and optimises workflow, and helps the system continuously improve and transfer processes to other locations.
SAP: eliminating the assembly line
The smart, automated assembly workstations by SAP can understand order priority, assess availability of resources and battery life, and more. With this knowledge, they can decide which steps should be done first, meaning assembly lines no longer have to be linear, but flexible.
SAP also proposed a digital twin technology at the fair, which would enable manufacturers and operators to monitor and analyse machines throughout the entire lifecycle on a collective platform. Impending defects and potential for optimisation can be discovered at an early stage.
Photo: dreamstime.com