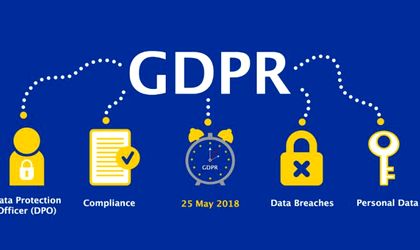 The European Commission released a set of advice on how the new General Data Protection Regulation (GDPR) that allows Europeans greater control over how their personal data is collected and used, as well as greater protection against data leakage.
From now on, you benefit from more security in what happens to the data you provide when shopping, paying taxes, submitting tax returns online, or entering into social networking accounts. This is because GDPR gives you essential rights that help you control how organizations use your personal data, as well as ensuring that these organizations have new procedures to protect this data.
Are you tired of receiving advertisements for products that you do not want? You can request to be removed from certain distribution lists. Are online messages that you're ashamed of? You can, under certain circumstances, obtain their deletion. Do you want to change a vendor? You have the right to receive all data from your old service provider to make it easier to switch to the new one. Stricter data leakage rules also imply that you need to be informed if those leaks represent a risk to your rights and freedoms.
The new rules apply in all EU Member States, regardless of where the data are processed or where an organization is based. They also apply to non-EU companies targeting customers within the Union. Whether you choose local products or want to buy something from abroad, you have the same rights and the same protection.
"Starting today, the General Data Protection Regulation (GDPR) gives EU citizens greater control over personal data," said European Commissioner for Justice, Consumers and Gender Equality, Vera Jourova. "The new regulations provide the guarantee that personal information is better protected – no matter where it is sent, processed or stored – even when this happens outside the EU."
Even if the GDPR establishes specific rights for individuals, it depends on whether they use them or not. If you believe that your personal data protection rights have been violated, you may contact the organization that holds this data. It must respond to the request made without delay and free of charge. You also have the right to file a complaint with your country's Data Protection Authority or to go to court.
New rules for the digital age
GDPR replaces the 1995 Data Protection Directive, which was developed long before the Internet or cloud computing came with new ways of processing personal data. Given that the way we share and use data has changed substantially since then, EU data protection rules need to be upgraded.
Every day, more than 250 million Europeans use the internet to interact with their family or shop, but they offer a lot of personal data, including names, personal addresses, bulletin data, or health information. This process is accompanied by numerous potential risks, such as unauthorized disclosure of personal data, identity theft, or online abuse.
More than eight in ten Romanians feel they do not have complete control over how their personal data is used and five out of ten do not trust online businesses. Furthermore, four out of ten voiced concerns about mobile applications that collect data without the person's consent, and six out of ten are worried about how companies use their data. Trends registered in Romania are, in fact, in line with the European average, in the vast majority of the analyzed domains.
Protection of personal data is not only a major concern of Europeans, it is also a fundamental right to be guaranteed. The new General Data Protection Regulation responds to this need.
For more information see: