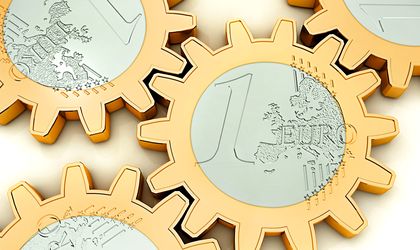 The euro will not exceed an exchange rate of RON 4.54 in 2017, according to forecasts. For next year, the exchange rate is expected to remain stable, between RON 4.32 and RON 4.54, writes Economica.net.
"We expect a growth of interest rates, given our 2.1 percent projected inflation rate for the end of 2017. As a consequence, we expect the National Bank of Romania (BNR) to strengthen fiscal conditions and to lead to a more accentuated growth of interest rates and state titles with short maturities and a flat yield curve for RON," ING Bank chief economist Ciprian Dascalu said.
Based on a business-as-usual scenario, given the current financial conditions, the domestic economy increased with approximately 5 percent per year in 2016, an evolution that was supported by economic policies.
"For the period 2017-2019 we expect a slowdown in the annual dynamics of GDP growth, converging towards the potential growth rhythm, against the background of perspectives to modify the mix of economic policies (the increase of funding costs). We forecast a dynamics of productive investments superior to that of private consumption, but also a convergence of the pace of evolution of exports and imports. In the field of financial economics, we have increased the forecast for the interest rate on government securities with a maturity of 10 years and for the EUR/RON rate exchange, by incorporating recent macro-financial developments (domestic and external). We believe that the risk factors associated to this central scenario are: the macroeconomic and financial environment (US, China, the eurozone); the domestic economic policy decisions; the global and regional geo-political tensions," Adrian Radulescu, Banca Transilvania chief economist said.
According to Dascalu, next year we can expect "a narrowing of the corridor of permanent facilities, in two stages, to +/-100 base points in the first half of 2017, followed by two increases of the key interest rate in the second half."