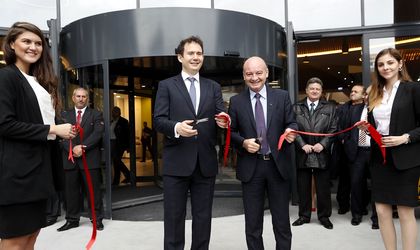 The 30,000 square meters Varanda shopping mall that Prodplast Imobiliare, controlled by Romanian businessman Florin Pogonaru, has been developing in the Obor area of Bucharest officially opened today.
Construction on the site started in 2014. At that time its owners were forecasting that the mall will have some 20,000 visitors per day and will generate between EUR 6 million and EUR 7 million of rental income in the first year.
Veranda shopping mall has required an investment of EUR 60 million. "We have a financing agreement with Raiffeisen Bank and Raiffeisen Bank International for EUR 25 million which can be increased to EUR 28.5 million. The remainder of the investment, meaning almost 60 percent, is covered by our own capital," Andrei Pogonaru, member of the administration board of Prodplast Imobiliare told BR this May.
The mall is located on the grounds of the former Prodplast plastics factory, which has been relocated. It is situated in the Obor neighborhood of Bucharest, one of the capital's traditional commercial areas, right next to the Obor farmers' market. Veranda is being branded as the first green and proximity mall in the city and is meant to be complementary to the existing traditional retailers in the area, according to its owners.
The shopping mall features some 100 stores and it is anchored by a Carrefour hypermarket, the French retailer's 12th in Bucharest and its 31st in the country.
Veranda is the second shopping mall to be opened this year in the capital after Sonae Sierra and Caelum Development opened the 70,000 sqm  ParkLake shopping mall this September.
Simona Bazavan