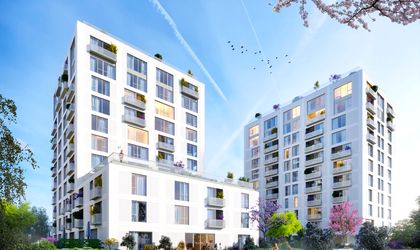 Forte Partners will finish the 176 apartments of first stage of residential project Aviatiei Park in February 2019. The second stage of the project will include 176 apartments as well and the value of the investment for the project is around EUR 45 million.
The residential project is build  with an aluminium facade through Reynaers Aluminium.
"We want the Aviation Park project to be associated with building quality, and Reynaers has demonstrated through previous works that it is a first-class service provider, "said Geo Margescu CEO and founder of Forte Partners developer. 
The construction of the second phase of Aviatiei Park will start in spring 2019, and is programmed to be finished in the last part of the year.
To complete the first phase of the residential project, Reynaers Aluminum Romania provided the CS 77 door and window system.
"We are pleased to offer our partners products that meet the demands of the market in terms of comfort, security and energy efficiency without compromising on design, along with advisory services that help them become more economically efficient and customizable projects, "Daniel Popa, country manager of Reynaers Aluminum Romania, stated.