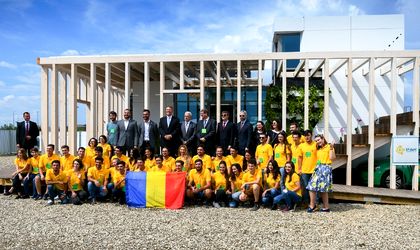 The EFdeN Signature solar house, designed and built by EFdeN, was inaugurated in the presence of President Klaus Iohannis, Deputy Head of the US Diplomatic Mission in Bucharest, David Schlaefer, academics and private representatives.
The house will be temporarily located within Baneasa Shopping City and will be open for viewing to the general public until early September, when it will be transported to Dubai. There it will represent Romania at the most important international solar competition – the Solar Decathlon. In this competition there are 18 finalist teams from 13 countries on 4 continents.
The EFdeN Signature home was developed by an interdisciplinary team of 60 students from the Technical University of Civil Engineering of Bucharest, the Ion Mincu University of Architecture and Urbanism and three other universities that designed and built a 100 percent solar and environmentally friendly house, with a high degree of comfort, health and safety for the occupant.
"We are glad to represent Romania again at the most important competition in the world. We thank universities, companies and all partners involved in EFdeN, because together we contribute to a more responsible Romania, to a more sustainable environment and to the education of young people in Romania. In order to participate in the competition in Dubai we have already managed to provide 65 percent of the necessary resources and we are still looking for partners to join our mission, "says Mihai Toader-Pasti, general manager and co-founder of EFdeN.
Moving to Dubai in September
Starting September 1, the house will be dismantled and transported by sea to Dubai to be reassembled in just 15 days by the student team on the site competition. Designed to integrate both in the Dubai and the Romanian climate, the prototype offers a unique experience through its adaptive and personalization potential.
With a footprint of 147 sqm, the EFdeN Signature offers a home-based concept. Thus, the most obvious element of the house is the outer structure, a shell that shades a relaxing space in the open air, while ensuring optimum luminosity in the house.
Also, EFdeN Signature is an intelligent house, as electrical and mechanical systems are controlled by an automation solution developed by EFdeN volunteers together with project partners. The home user will be able to control lighting, temperature, door opener and part of the home appliance through an app, including when they leave the home.
The Solar Decathlon is the most important sustainable housing competition in the world and was born in 2011 in the United States. In 2012, the PRISPA team was the first team in Romania to qualify for the Solar Decathlon (Madrid edition), and in 2014 the EFdeN team participated in the Versailles edition of the house, which is now the Congressional Research Center. To date, the EFdeN team has won 23 awards.