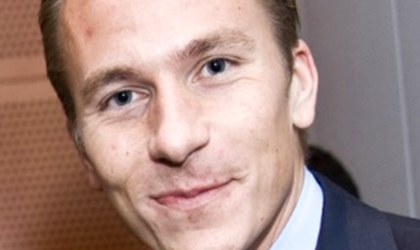 eBay, the pioneer of electronic commerce since 1995, is coming to TeCOMM eCommerce Conference & Expo, the premium e-commerce event in Eastern Europe that takes place between October 24-25 Grand Hotel Italia in Cluj-Napoca. The event brings together over 350 online store owners and industry professionals.
Samuel Laurinkari, head of EU Affairs at eBay, will talk at the event eCommerce about the main commercial models of the 21st century and the ways in which online stores become globally relevant. Before joining one of the largest multinational companies in e-commerce, Samuel worked in government relations for LVMH Moet Hennessy Louis Vuitton.
In 2016, eBay was ranked as one of the largest US eCommerce companies with over USD 31 billion in 2016 and the most visited eCommerce platform in the United States, according to statistica.com. In the second quarter of 2017, eBay recorded over 171 million active users.
"93 percent of the small companies present on eBay Marketplace are involved in export, 80 percent export to over 4 countries, and 40 percent export to more than 4 continents. […]. Through technology, you can get relevant in your region from day one, you can create opportunities and grow the market until you become a global leader," said Samuel Laurinkari.
How to: eCommerce beyond the ordinary, at TeCOMM Cluj-Napoca
Global trends are shifting towards personalization: from custom-fit products to buying experiences that draw the user to the site and keep it as an ecosystem. The theme of the new TeCOMM edition is Haute Couture eCommerce and proposes a beyond the ordinary approach that focuses on details, consumer-minded buying experiences, quality products, eCommerce platform personalization, or a balance between expectations and results.
The news in e-commerce is presented at TeCOMM by renowned leaders who through their innovations have educated and developed the eCommerce industry. Carlo Terreni (managing director, Netcomm Suisse), Manuel da Costa (founder, Effective Experiments), Ovidiu Joita (CEO, iAgency), Antonio Eram (CEO and founder Netopia) or Attila Birtha (founder, Proclick) are among the first confirmed speakers for the new edition.
New at TeCOMM: The Catwalk Stage, Masterclass SEO or Entrepreneurship Stage
More than 2,500 online store owners and industry professionals are part of the TeCOMM community in order to better understand their development and business opportunities.
The fashion retail market in Romania has seen an accelerated growth, so in 2016 it was estimated at 3.13 billion euros, supported by over 18,000 retailers in the industry, according to MKOR Consulting. To add value to the fashion industry, TeCOMM includes this year's The Catwalk Stage conference dedicated to retailers operating in this industry.
TeCOMM includes on October 24 the SEO masterclass supported by the specialist Ovidiu Joita (owner, iAgency), who has over 17 years experience in marketing and online advertising. The SEO masterclass will include themes focused on what is behind the Google.com webpage, Google indexing, SEO analysis and strategy, on / off page optimization, or KPI for SEO services.
Are you an online entrepreneur?
Being online also involves many offline resources such as specialized human resources, ongoing research, management techniques, employee motivation, or solving the specific situations faced by an entrepreneur. Manuel da Costa, the founder of Effective Experiments, will introduce us to one of the guided A/B testing solutions for online businesses or for performing teams during the new Entrepreneurship Stage section. Manuel has been practicing CRO for 5 years and has collaborated with numerous eCommerce companies to improve their conversions and earnings. The Entrepreneurship Stage Discussion Forum brings together online store owners who want to develop their online business.
For those just starting their business, the organizers have prepared the Start-up Area section that includes dedicated workshops on topics such as: online platform selection, brand growth, online marketing, or conversions.
Enrollments continue on the official website: http://cluj.tecomm.ro.