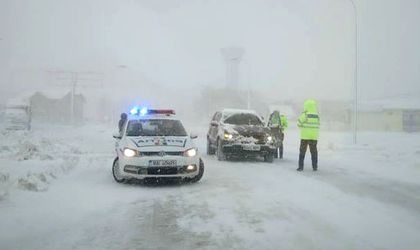 The traffic on two highways, sections on 14 national roads and 47 counties has been blocked on Wednesday due to bad weather.
Firefighters in Teleorman have tried for a few hours to arrive in Copaceanca, at a pregnant woman and a person with a fracture at one hand, but the road has been blocked by snow and the machinery that opened the road for the Ambulance broke down, according to Mediafax.
On the road the machinery broke down so that another machinery has been sent from Rosiorii de Vede.
Since the start of the warnings and until now, the Ministry of Internal Affair (MAI) representatives have unblocked 450 persons stuck in snow on different roads and 45 interventions took place to save 51 persons in healthcare risk situation.
According to the data from Wednesday presented by the Ministry of Internal Affairs, in the last 24 hours the operative groups and the county centers of coordination and intervention remained active in 26 counties and Bucharest municipality, while in Braila, Calarasi and Ialomita counties the operation capacity level has been increased.
The most difficul situations have been in Braila, Buzau, Calarasi, Constanta, Dolj, Ialomita, Olt, Tulcea, Vrancea, Teleorman counties.
Due to the blizzard and heavy snow, the traffic is still closed on the highways A2 and A4, 27 sections of national roads and 47 county roads.
Also at the boarderline with Bulgaria there are still tonnage restrictions (3.5-12 tones).
Between Postavari and Popesti Leordeni (Ilfov) localities, on the national road 4, 2 cars with 6 passengers have been stuck in snow. A machinery from the National Company of Road Infrastructure Administration (CNAIR) arrived for unblocking.
Moreover, three cars with 6 persons have been blocked on a silvan road in Buzau county, and a heavy machinery has been called, succeeding to unblock them.