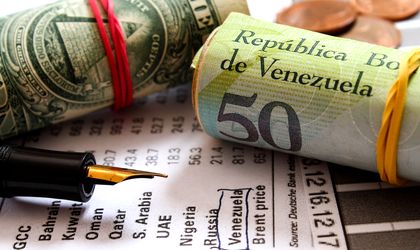 Over the week-end, Venezuela saw its currency drop by 95 percent, after country president Nicolas Maduro carried out the biggest currency devaluations in history.
As a result, Bloomberg forecasts, the country will see prices rise even more, over the annualised rate of 108,000 percent. Plus, the measures will also boost inflation, which was already projected to react 1 million percent this year.
In order to offset the shock of seeing the official rate for the currency hike from about 285,000 per dollar to 6 million, the country's officials raised the minimum wage by 3,500 percent. That will make local wages equivalent to USD 30 a month.
On Friday Maduro announced that the International Monetary Fund (IMF) was not involved in the policies.
Maduro's policies are described by Bloomberg as "a desperate response" that comes after years of disastrous policies that stemmed growth, saw prices explode and made the economy dysfunctional.
As pressure on him mounts, and opponents ask for his resignation, he started a fresh crackdown on political adversaries, especially after a failed assassinate attempt using a drone.
The devaluation is accompanied by the redenomination of the currency, by cutting fie zeros and introducing new bills and a name change. As a result, the new minimum wage will be 1,800 sovereign bolivars, instead of 1.8 million strong bolivars.
The new bolivar's value will be linked to a crypto currency, the Petro, which is backed by crude oil. The currency is valued by the Venezuelan government at USD 60, or 3,600 sovereign bolivars. The Petro will be used to set prices for goods.