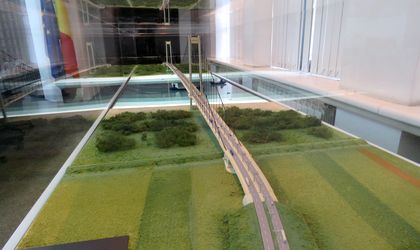 Astaldi and IHI Japan will begin construction work on the Danube Bridge in Braila next year, finalizing the project in 2022. Around 17 kilometers of this project, of about RON 1.4 billion, from the 23 km of the project are on the border of Tulcea County.
Several geotechnical and geological investigations in the field took place on 2 March, and more than 4,800 linear drilling was carried out in about 69 drilling wells. Of these, about 70 percent were made on the Tulcea County, because 65 percent of the project is in Tulcea County.
The suspended bridge, which accounts for about 70 percent of the total work, has two lateral openings of 469 m and 364 m respectively. The suspended bridge will have two viaducts on both sides, about 90 meters each, and will connect the city of Braila and finally Tulcea, taking into account that it will open a direct connection, not through ferry boats, for connecting the Tulcea to the rest of the country, without having to take the roundabout to Giurgeni-Vadul Oii or Fetesti.
New road
Besides the suspended bridge, the project also includes 17 km of new road, four lanes about 4 km, and from the roundabout towards Smardan, respectively Jijila, to remain in one strip per sense. The project also includes about 32 structures (bridges), of which 13 are with openings larger than 14 m.
The contract was signed in January this year, the design commencement order was given on March 2, 2018. On March 2, 2019, the start of the actual execution of the works, scheduled for three years, will begin and the completion of the works will take place in early March 2022. 
According to Astaldi, this is the only bridge suspended over the Danube, the largest investment not only in Romania but also as a European investment in a project of such complexity.