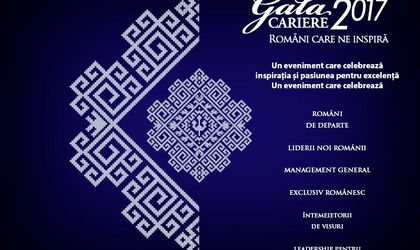 CARIERE Magazine organizes the fifth edition of its annual awards gala at the Radisson Blu Hotel in Bucharest, on December 14, celebrating excellence in entrepreneurship, innovation, leadership and inspiration.
Each year, the Gala brings together the elite of communities of entrepreneurs, managers, national and world-renowned specialists who contribute to a better image for Romania at a worldwide stage.
"The CARIERE Magazine Awards Gala honors and recognizes excellence, competitiveness, innovation and performance attained by leading specialists in the fields they represent, as well as their respect for the Romanian values and traditions," said Daniela Palade-Teodorescu, editor in chief of CARIERE Magazine. "For over 15 years the CARIERE brand has brought to the public's attention and has rewarded personalities in the Romanian culture and sciences, as well as entrepreneurs and manages who constantly perform in the Romanian business environment. This year, as a preview of the celebration of the Centennial of the Great Unity, the CARIERE Awards Gala rewards Romanians who inspire, ambassadors of arts, culture and science, who, through their performances, as well as through their civic attitude, stand for excellence in Romania."
The CARIERE Awards Gala this year honors inspirational characters in the following categories:
Romanians from Afar
New Romania's Leaders
General Management
Exclusively Romanian
Founders of Dreams
Career Leadership Award
We invite you to access www.gala-cariere.ro and have a read of the stories of the people who inspire us this year! Voting for the winners this year is open and closes on December 12, at 24.00 hrs.
The CARIERE Awards Gala is organized with the support of main partners Telekom Romania, Enel, SELFTRUST Academy, Up Romania, Idea Bank, GSK Consumer Healthcare, Intermedicas and British American Tobacco; of annual partner Romanian Software; partners IQOS and Eucom, organizing partners Serve, Zarea, Alexandrion Group, Ie Tradițională, Atelier 13, Tres Bien and Interflora Romania, while the media partners are HR Manager, RFI, Business Review, HR Club, BIZ, Wall-Street, Portal HR, Doingbusiness.ro and Jurnalul de afaceri.
For more information please contact events and communication director Corina Mica on corina.mica@cariereonline.ro