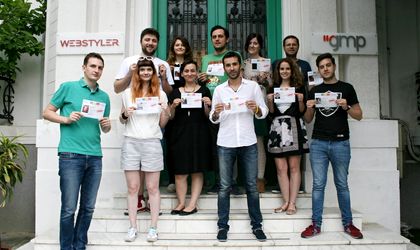 Since Sunday, the Romanian population grew with some thousands of British citizens. It happens online, as a reaction of solidarity with Europe after the Brexit vote. While the Europeans were recovering from the politic shock, in the search top of Google in UK the trending topics were the Brexit conclusions and the orientation towards other citizenships in the "Remain" campaign. On Twitter the hashtag #WhatHaveWeDone was trending.
This is how the campaign "Romanians adopt Remainians"- http://romaniansadoptremainians.gandul.info appeared.
Initiated by GMP Advertising and Webstyler for the Gandul news portal, the main campaign's goal is to symbolize the support offered to Europe, as we know it today. The creation of a strong bond between Romanians and Brits that will interact in social media will definitely influence the agenda of some politicians that promote xenophobia, intolerance and the discrimination towards the emigrants.
"I am strongly convinced that the referendum vote would have been different if many more Brits would have really known more Romanians and they wouldn't just have read about them in the Daily Mail or other tabloid newspapers with an anti-immigration agenda," said Mihai Gongu, executive creative director at GMP Advertising and the campaign's coordinator.
The platform that connects Romanians with Brits that haven't met before and offers a virtual Romanian ID to those in the "Stay" camp.
"Initially we thought that maybe the British people will not enter the game, that they will have a barrier in letting themselves be adopted by us, the Romanians. The results after 48 hours show us that they understood the symbol, the meaning of the idea. We believe that the people can change the history, this is the reason we've created the premises of a real dialogue between people, because only like that we can stop being manipulated by the media and the politicians. This dialogue can take place in the social media, free, uncensored, as everyone feels. I am very happy to see a campaign that brings out a positive concept becoming viral in the international media, at a big competition with the negative pieces of news of major impact in Europe," said Bogdan Nitu, general manager of Webstyler:
Yesterday at 12 the website registered over 12.000 citizenship requests, over 3.000 IDs requested by the British people and over 3.000 Romanian volunteers ready to adopt them, while the international publications such as Campaign Magazine, The Guardian, Huffington Post, NZHerald.co.nz, Newseek, SWR3 took over the news.
The UK's Ambassador to Romania, Paul Brummell said this campaign "is about generating connection on Facebook in between Romanians and Brits and anything that generates friendship between the people from our countries is definitely welcomed".
The team that worked on this campaign includes:
Mihai Gongu – executive creative director, GMP
Bogdan Nitu  – GM & Head of Digital Strategy, Webstyler
Andrei Balan – head of Communication Strategy, Webstyler
Carmen Marinescu – project director, Webstyler
Sasha Tanase – art director, Webstyler
Dan Neciu – web developer, Webstyler
Cosmin Panait – web programmer, Webstyler
Razvan Stanga – web programmer, Webstyler
Andreea Lazar – QA tester, Webstyler
Ștefan Georgescu – strategic planner, Webstyler
Ionut Raicu – graphic designer, Webstyler
Andreea Cristea – copywriter, Webstyler
Elena Ciric – Social Media Manager
Romanita Oprea