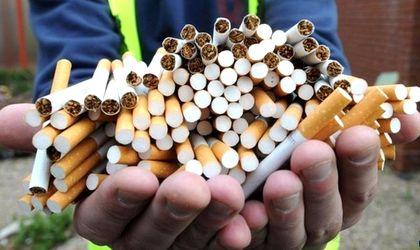 The black market for cigarettes rose in September to 18.3 percent from 14.9 percent in July, according to a study carried out by the research company Novel Research.
According to the research, this was the biggest gain in illegal trade with cigarettes in the last two years and is above the average of the last five years, of around 15 percent.
Dorel Fronea, the vice president of the tax administration agency ANAF, said that this expansion of the black market needs to be tackled with an increase of the operational measures and through the relaunch of a coordinated strategic approach.
"Unfortunately, this has been the result of the scrapping of the National Customs Authority, in August 2013. It is a known fact that in the last month when ANV was in operation, in July 2013, the level of illegal trade with cigarettes was 11.8 percent. Then, we had 15 functional scanners and around 100 mobile teams at national level, which were scrapped. (…) Today, we are announcing the National Strategy for the combat of illegal trade with cigarettes, which was initiated by the customs authority, and is in the final stage of the process for inter-institutional approval and will be launched for public consultation in the shortest time possible," said Fronea, coordinator of the Customs Authority in Romania.
According to Marian Marcu, director at Novel Research, the northeastern region remains the area that is most affected by the illegal trade with cigarettes, registering an increase of 7.2 percentage points to 42.5 percent. The biggest increase of the black market for cigarettes has been registered in the southeastern part of the country, which was up by 8.3 percentage points to 18.5 percent.
Marcu said that cheap whites accounted for more than 60 percent of the black market in July 2016. The amount of products coming from Ukraine was up by 3.1 percentage points, while from Moldova there was a drop of 3.3 percentage points. Meanwhile, for Serbia the situation has remained constant.
Ileana Dumitru, director of legal&external affairs at BAT Romania, said that the increase of the black market with over 3 percentage points to 18.3 percent represents an additional annualized loss of EUR 130 million to the stage budget, on top of the EUR 600 million is missed tax revenue due to the illegal trade.
Tobacco companies paid EUR 3 billion to the state budget last year, accounting for 2 percent of GDP or 12.5 percent of the total tax revenue.
Ovidiu Posirca