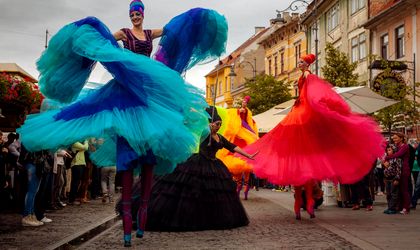 For several years now, Romania has been a cultural hotspot for the performing arts, film, theater and music. However, the local cultural industry is still badly under-financed, with its creative sectors dependent on funding from the Ministry of Culture, making private investment a great white hope. BR talked to the major companies that sponsor cultural products to find out why and how they integrate business into culture.
Oana Vasiliu
The film industry, theater and classical music festivals – these are the cultural products that have put Romania on the international map in recent years, despite the gloomy economic climate.
The business world has been forthcoming with the necessary cash, and the new generation of artists and performers can take up the mantle from the creative Romanians who have blazed the trail. This is evident from a glance at the major local festivals, more specifically their sponsorship/partner section, as well as social media – both festivals' official presence and brands' channels.
The creative areas are getting attention from both government and private companies, taking into consideration the complex programs that every festival has and the impressive number of events, their national and international guests, and alternative events on the calendar. The numbers are increasing every year, transforming well-known festivals into something bigger and better. However, the budget of the Ministry of Culture for 2016 is around RON 773 million (EUR 171 million), meaning just 0.1 percent of the country's GDP. Though this may seem small, the amount has increased significantly from 2015, by almost 26 percent, but it is still insufficient to sponsor everything. This is why the organizers seek to plug the cash gap with help from the private sector.
Meet and greet the sponsors
"The Romanian public is consuming more and more culture and we try to meet clients' needs and expectations through many major cultural events. I believe that supporting any cultural event of those traditionally sponsored, meaning the French Film Festival, Festival des Tres Courts, Festival de Cannes a Bucarest, George Enescu Festival and Fete de la Musique, has a high degree of ROI and the most gratifying aspect is that these events are growing year by year and we have been their partners, in some cases, from the very beginning," Alex Filip, senior events and sponsorship specialist at Orange Romania, told Business Review.
The banking sector has also got involved. Anca Nuta, first vice-president, identity & communication director at UniCredit Bank, added, "We are part of a banking group with a tradition of patronage and our core values are followed also in our CSR policy. We believe, among other things, in empathy, respect, passion and professionalism – so we associate with events and entities that share our values, and beyond the impact they have in the community at the time being, are investing in future generations." This year the bank will support Romanian Design Week, Sibiu International Theatre Festival, Summer Well, Diploma, The Power of Storytelling, Creative Mornings series, as well as its own art events at the bank's headquarters.
Carmaker Dacia has focused some of its social responsibility efforts on supporting culture, from film festivals to book fairs, and has been present at the biggest national cultural events over the years. Anca Oreviceanu, director of communication and CSR at Dacia and Renault Romania, told BR, "The investment's results in education aren't instant; they appear in time, which is why we have developed long-term partnerships, with integrated communication in order to have visibility. (…) Over the last 16 years, we can talk about tradition. We can even talk about significant anniversaries, which is the case with the Gaudeamus book fair, with which we have had ten years of partnership, and the Classic is Fantastic program, where it is five years since we first sponsored the workshops for children."
Another company with a tradition in sponsoring cultural events is Japan Tobacco International (JTI,) which has channeled some of its CSR money into supporting culture, in particular contemporary ballet. Gilda Lazar, director of corporate affairs & communications at JTI Romania, Moldova and Bulgaria, told BR that this year the tobacco firm will be present at the Transylvania International Film Festival supporting a documentary about choreographer Ohad Naharin, then at Sibiu International Theatre Festival and Comedy Cluj, if the local authorities continue to support the film festival. "By funding cultural, social and educational programs we actually participate in shaping society. Finally, this approach has a beneficial effect on the company, although such an evaluation is difficult, taking into consideration the basis of conventional business. (…) Moreover, we continue our JTI Meetings, bringing onto the Romanian stage four living contemporary dance legends, Mats Ek, Ana Laguna, Susanne Linke and Dominique Mercy, at the beginning of October," added Lazar.
Mastercard has supported cultural events in Romania for ten years now, being a traditional partner at the Transylvania International Film Festival and implementing new buying experiences with the festival's fans, such as the first payment with contactless credit cards in 2013. Diana Tanase, marketing manager at MasterCard Romania, told BR, "Properly functioning card payment acceptance and the latest technologies, such as contactless, seconded by communication and promotion, have generated absolutely spectacular results: in 2015, at TIFF, 54 percent of the banking transactions made by card for tickets were contactless, out of which 89 percent were made through MasterCard and Maestro bank cards. At Electric Castle, where organizers gave the audience a card made especially for the festival, but also the option to pay directly at bars and food courts, contactless transactions were preferred by 65 percent ​​of those that opted for the second solution. Under these conditions, ROI is very good, especially as we are talking about a greenfield – we are glad to see that card payment immediately attracts users in non-traditional spaces, showing the growing appetite of Romanians for electronic payment instruments."